Main content
Treville
Once a legendary soldier, Treville has turned politician as the King's Minister for War.
He remains a man of absolute integrity, and is deeply frustrated by the corrupt new Governor of Paris. Brusque but good-humoured, Treville is both commander and father figure to the Musketeers; their respect for him knows no bounds. Yet after four years of war, Treville has learned the tough political reality of keeping secrets – even from his trusted Musketeers.
As the Louvre plunges into crisis, the Musketeers and Treville must learn to navigate their newly treacherous relationship in the face of multiplying enemies.
Hugo Speer
Hugo has appeared extensively in film, television and theatre.
In addition to The Musketeers, his television work includes the multi award-winning Bleak House, the Golden Globe-nominated Five Days, Sorted, Skins, Bedlam and Father Brown.
Well known for his role as Guy in The Full Monty, Hugo's other film work includes The Interpreter, Deathwatch and Lars Von Trier's Nymphomaniac.
His theatre work includes Harold Pinter's Betrayal and Year of the Rat, in which he played George Orwell.
Clips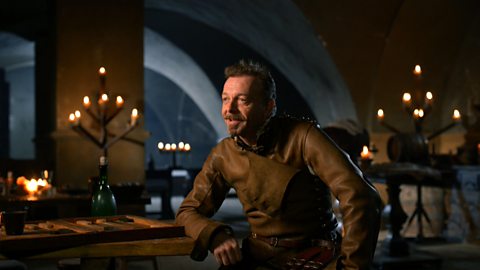 Hugo Speer introduces the captain of King Louis XIII guards, Treville.