Main content
Helen Archer
Settled with her family, her nightmare marriage behind her, has Helen finally lost her title of unluckiest woman in Ambridge?
| Fact title | Fact data |
| --- | --- |
| Played by: | Louiza Patikas |
| Born: | 16 April 1979 |
| Status: | |
| Occupation: | Shop manager / cheesemaker |
| Lives at: | Bridge Farm |
Born with a dislocated hip, Helen was frail as a baby but grew into a horse-mad teenager keen on a career in food. The death of her brother John in 1998 hit her hard, as did a doomed relationship with Greg Turner, who took his own life in 2004.
After battling a near-fatal eating disorder, Helen decided not to wait for Mr Right and gave birth to Henry, conceived by donor insemination, in 2011. She was at her happiest when she met Mr Wrong, Rob Titchener, two years later.
Their passionate affair led to a hasty wedding, but his charm soon turned to coercion and cruelty. Eventually, heavily pregnant and fearful for Henry, Helen stabbed Rob. When the scale of his abuse emerged, a jury cleared Helen of attempted murder and she was awarded custody of Henry and baby Jack. Enraged, Rob tried to snatch Jack but Helen saw him out of Ambridge, enabling her to start afresh.
I've just started a new batch of Borsetshire Blue

Helen Archer
Louiza's thoughts on Helen
Helen has experienced her fair share of trauma (most recently an abusive relationship with Rob Titchener), but despite her vulnerabilities she has great reserves of strength, too.
Helen is always herself, and not a people-pleaser, but she has softened around the edges, especially since she became a mother. She has a driving commitment to her business, and to her family - especially her sons Henry and Jack.
Louiza Patikas
Louiza was was nominated for Best Actress at the 2017 Radio Drama Awards for her performance in the Helen and Rob storyline. Her portrayal of Helen contributed to The Archers winning the MIND Champion of the Year Award 2005.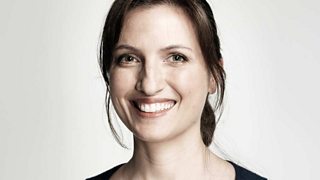 Her recent television credits include Unforgotten and Coronation Street.
Louiza lives in London with her husband and sons.
She grew up in Greece and the UK. She has also lived in France. She has a first class degree in French and Drama, and she trained at the Drama Studio in London.
Archers highlights
The Helen and Rob storyline was a really fulfilling acting experience, and I met some remarkable people: survivors of abuse, and committed campaigners.
Meeting the late, great Victoria Wood when she came to Ambridge to record some Archers sketches with us for Comic Relief.
Other career highlights
Filming comedy-drama Planespotting. Not only did we shoot in Portugal, which was beautiful, but that was how I met my husband.
Presenting BBC Radio 4's Pick of the Year for Christmas 2016. It was a joy sifting through the best bits of BBC Radio from the whole year and introducing all my favourites.
Favourite
Actor - Jeanne Moreau, Katharine Hepburn
Book - It's impossible to pick one!
Film - I'm a sucker for Jacques Tati, especially Les Vacances de Monsieur Hulot and Mon Oncle. I've just rewatched The Godfather films, which I think are fantastic.