Main content
Carolyn Quinn
Carolyn Quinn presents The Westminster Hour on Radio 4 on Sunday evenings at 10.00pm, weekday PM in Eddie Mair's absence and The World Tonight. From 2004 to 2008 she was one of the presenters on Today.
A trained French teacher, she opted for journalism and started to volunteer on hospital radio. A job on The Irish Post followed, then she was selected for a BBC local radio trainee scheme. After training and two years at Radio Solent, Carolyn became a reporter on the local radio desk for the BBC at Westminster. She became a political correspondent in 1994, a position she held until 2006, when she became a full time presenter.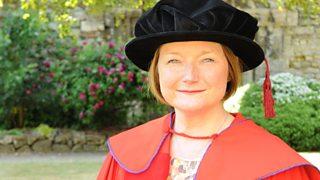 Her role on The Westminster Hour, she says, gives her the perfect opportunity to maintain her contacts at Westminster and give a voice to the backbencher, analysing in depth the subjects that perhaps don't get a hearing on other programmes.
"It's the ideal programme for getting behind the news and discovering the issues that are concerning politicians. Our regular MP panel provides that forum and we make full use of a wealth of expert commentators and academics who are scrutinising the political scene to examine contemporary and historical topics in greater depth."
In July 2013 Carolyn received an honorary degree from the University of Kent in recognition of her contribution to broadcast journalism.