Main content
Sir Anthony van Dyck (1599-1641)
Anthony van Dyck was one of the greatest Flemish painters of the 17th Century.
Van Dyck was born in Antwerp in 1599. A child prodigy, Van Dyck began painting at just 10 years old. Only a few years later he was working as the chief assistant to the great Flemish painter Peter Paul Rubens.
Van Dyck was one of the best portraitists in the history of art.

Dr Bendor Grosvenor
Van Dyck was influenced by Rubens' passion for Italian art and in 1621 travelled to Italy to study the masters. Most noticeably Van Dyck admired the dramatic works of Titian.
Van Dyck returned to Flanders in 1627 as an artist with an international reputation. His religious masterpieces and portraits were in demand across Europe.
King Charles I hired him as his court painter and in 1632 Van Dyck moved in to London. He was knighted that same year.
Over ten years van Dyck painted many royal portraits for Charles I and his wife Henrietta Maria.
His elegant, flattering paintings over this period are credited with setting a new standard for English portraiture.
Van Dyck died in London in 1641 aged 42.
Clips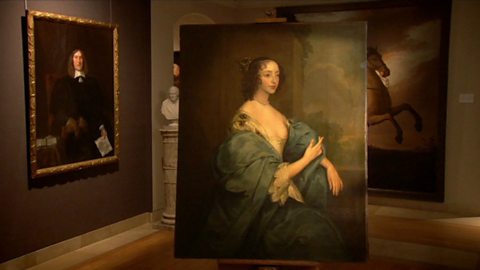 Philip Mould explains to Fiona Bruce his plan to reveal a lost painting by Van Dyck.