Main content
Enwezor
Born and bred in North London near Harrow, Enwezor is half Nigerian and half Japanese. He now lives with his wife and four children in Portsmouth, where he works at the local University as a business consultant. When Enwezor sets his mind to something he will commit himself entirely - he once decided to do the Great South Run barefoot, spending eight months walking around Portsmouth without shoes to get his feet ready for the race.
Enwezor grew up in a family that liked to cook. He has taught himself to bake in the last three years and it has rapidly become one of his greatest passions, with Enwezor even doing a night shift with a professional baker, making over 900 loaves of bread, just for the work experience.
Enwezor regards baking as an inclusive and fun activity that he likes to do with his children - he'll give them a bowl of flour and let them mix it on the floor whilst he bakes. Although he started off with bread, pastry is now his favourite thing to work with.
Not wanting to run out of staple ingredients, Enwezor has been known to stock up his fridge with eight packs of butter at a time. He runs a Facebook group for amateur bakers in Portsmouth, sharing ideas and tips he's discovered, and thinks baking in this way brings together the community.
Enwezor in his own words
When did you get into baking?
Baking has become one of my main hobbies in the last three years, although I got into cooking in my early twenties. Seeing the seemingly unattainable pastries in the shop window at a posh bakery was a real motivator to get better at baking – greed can be a good virtue!
Have you got any memories of baking as a child?
I loved eating cakes and biscuits. I have fond memories of buying fairy cakes at the school fête, but it wasn't something that I did much of as a child, although it did fascinate me.
What sets you apart from other bakers?
I like to attempt quite technical bakes. I don't really care how difficult it is or how complicated it is, I'll give it a go and if it is a disaster, that's ok as I'll have learnt something. I have a never say die attitude to life and baking and I don't mind failure as long as I did my best.
Why did you apply to be on The Great British Bake Off?
I set up a small amateur bakers group on Facebook. It's not a big group - it's more of a small community of bakers really - and I have learnt so much from other bakers. Some of the bakers suggested quite strongly that I should apply for the Bake Off and after a year of convincing, I thought I'd give it a go!
Have you had any baking disasters?
Bread is one of my most common baking disasters. I rarely bake the same loaf twice and I tried a loaf recently that was a quarter wholemeal, a quarter rye and half white. It had too much water in it and the gluten strands were too weak. To add insult to injury, I underbaked it! Not too clever! If you don't have baking disasters, you're not trying hard enough!
What's your favourite thing to bake?
Macarons
Who is scarier, Mary or Paul?
Paul without a doubt – he doesn't pull his punches and when he gets on a roll, he keeps on rolling!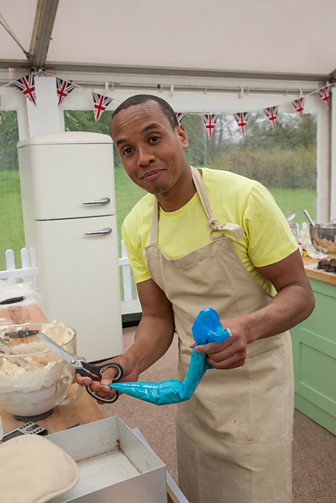 More from The Great British Bake Off