Main content
Lennox Cato
Lennox Cato was brought up in a family of antiques dealers, so it is no surprise that after leaving school he embarked on his own career in the business.
| Fact title | Fact data |
| --- | --- |
| Joined the Roadshow: | 2005 |
| Memorable find: | An 18th century Cuban mahogany kneehole desk |
His first shop was in 'The Lanes' in Brighton. He later moved to Lewes in East Sussex and in 1997, he set up his business in Edenbridge in Kent where he remains today. In 2007, Lennox was appointed Vice-Country Chairman of the British Antique Dealers' Association.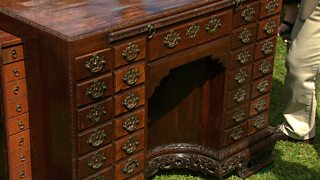 When the Antiques Roadshow visited Lulworth in 2011, Lennox had the joy of recording one of the most valuable pieces of 18th Century English furniture ever seen on the Roadshow – "I was to value an 18th century Cuban mahogany kneehole desk with many drawers, the family called it the 'Apothecary Desk'. It's the best article I have seen since I have been with the Roadshow and it was worth £200,000! My next objective is to find something as good again soon".
Having been in the business for over 35 years, Lennox finds antiques are now a way of life, but when he needs to relax, he turns to sport – running around kicking a ball or playing badminton.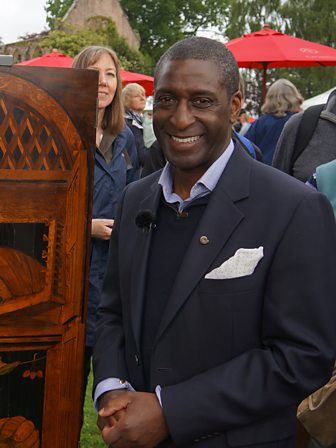 Arms & militaria

Arms & militaria

Arms & militaria

Books & manuscripts

Books and Manuscripts

Books & manuscripts

Books & manuscripts

Books & manuscripts

Ceramics & glass

Ceramics & glass

Ceramics & glass

Ceramics & glass

Ceramics & glass

Ceramics & glass

Ceramics & glass

Ceramics & glass

Ceramics & glass

Ceramics & glass

Ceramics & glass

Clocks & watches

Clocks & watches

Clocks & watches

Furniture

Furniture

Jewellery

Jewellery

Jewellery

Jewellery

Jewellery

Jewellery

Pictures & prints

Pictures & prints

Pictures & prints

Pictures & prints

Pictures & prints

Pictures & prints

Pictures & prints

Pictures & prints

Pictures & prints

Silver

Silver

Silver

Silver