Main content
Simon Rimmer
Ready to cook up a storm on the dancefloor!
| Fact title | Fact data |
| --- | --- |
| Age | 54 |
| Profession | TV Presenter & Restauranteur |
| Partner | |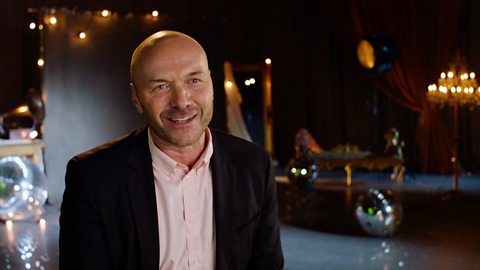 "Once you've had kids... a part of your back no longer coordinates with your hips."
Simon Rimmer is the resident chef and co-presenter on Channel 4's Sunday Brunch alongside Tim Lovejoy. He was formerly the resident chef on BBC Two's Something for the Weekend, hosted by Tim Lovejoy and Strictly 2016 runner-up, Louise Redknapp. He is also the founder of award-winning vegetarian restaurant Greens in Manchester.
Shirley meanwhile is from my hometown of Wallasey… You know I'm going to milk that association!
"Ever since we've had contestants as guests on the show I've been transfixed by everybody's passion for it," says Simon. "I'm not a dancer, but I love a challenge, I love to learn and I think as humans we should step outside our comfort zone to keep us motivated. This is stepping WAAAAAAY out of my comfort zone."
He was born in Wallasey, Merseyside, on May 5, 1963. He originally studied fashion and textile design at Leicester Polytechnic in 1982 and left with a 2:1. He worked as a freelance designer for five years. He used to sell textile designs in Japan, the States and Europe and even produced a range of hand-painted pottery, which was sold in places such as Liberty, Harrods and Harvey Nichols!
After a few years hard work, Simon couldn't see how he would progress in the industry so he decided to buy a restaurant with a friend – and hasn't looked back! Simon's TV career came from a phone call one day when he was working at Greens. Granada Breeze, a lifestyle channel, was looking for someone to do a feature on vegetarian cooking. He had never harboured any ambition to be on TV but kept getting asked back.
Simon has some interesting views on the judges as well as a little tactical plan for new judge, Shirley Ballas… "Craig and Bruno have both been guests on Sunday Brunch. Bruno is bonkers and Craig was a pussycat… on our show. Shirley meanwhile is from my hometown of Wallasey…You know I'm going to milk that association!"
Hmm, just how far will schmoozing with the judges get him in the competition though?