Main content
Jordan
Jordan lives in Nottingham where he works as an I.T. manager. He is the self-confessed 'nerdy baker' of the tent. Jordan is highly intelligent and constantly absorbs trivia and new skills, from spinning his own wool and perfecting his embroidery, to baking and hairdressing! Jordan plays Dungeons and Dragons with his friends and loves to read comic books. He keeps fit by cycling his bike five miles to and from work every day. When offered both an easy and a complex way to do something he will always go for the most difficult.
Jordan is a baking revolutionary and is passionate about crossbreeding bakes such as his 'pretzel-croissant' - he has lost days of his life perfecting his own version of the 'cronut.' He has been baking seriously for the last three years but has dabbled for longer than that. He considers baking to be similar to coding, where one wrong instruction can cause the whole thing to go awry. He calls his pet sourdough starter 'Yorick the Yeast', who requires daily feeding to keep him happy and healthy.
Jordan in his own words
How did you get into baking?
My girlfriend used to decorate cakes and I was always more the chef of the house but, about three years ago, we both joined a local baking club. The girlfriend joined as an excuse to bake cake, and I to eat it! Once I discovered that the baking club awarded a 'best cake' each month though, that was like a red rag to a bull! I wanted that 'Best Cake' title. I wanted it badly. So I started to bake and I now spend every waking hour either baking or thinking about baking!
Have you got any memories of baking as a child?
My family were never bakers or cooks growing up, so the only experience of baking I had as a child were using those boxed 'just add milk' cakes! I can remember making some rock cakes in my early teens, but they seem to resemble rocks in both look and taste, so I never tried again!
What sets you apart from other bakers?
I've never been a fan of the saying 'less is more' as I believe that more is always more! My bakes and my personality are reflected in this as I like to combine as many things as possible to create uber-food! Pretzel Croissants and Cheesecake breads are just some of the dastardly creations I have come up with over the years!
Why did you apply to be on The Great British Bake Off?
My friends and family both pushed me to apply for this year's Bake Off; I think after they got fed up of me posting an endless stream of baking photos on Facebook. I didn't think I would even get to the first interview stage when I applied, so you can imagine my shock when I ended up getting all the way through to the show!
What's your favourite thing to bake?
I love making sweets; marshmallows, pulled sugar, caramels and toffees.
Who is scarier, Mary or Paul?
Mary is by FAR the scariest person I have ever met! She has the same aura as my old school teacher mixed with the Queen! You really don't want to disappoint her!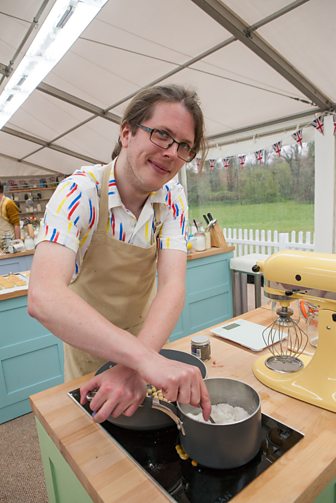 More from The Great British Bake Off