Main content
Catherine Bordey
Catherine, is attractive, bright, friendly and one of the most popular people on the island.
Originally from France, she met Camille's father on Saint-Marie, and, although they're no longer together, she was happy to make it her home and raise Camille there. She's been at the heart of the Honoré community ever since she became owner of her picturesque beach-front bar. A natural host, she's always happy to stop what she's doing to give a consoling hug – or offer advice – to all those who come to drink there. And she delights in surprising Humphrey with her unusual cocktail creations or exotic local dishes.
But is change afoot, as Catherine begins to wonder whether it's time to give something back to the island she's spent most of her life living on..?
About Elizabeth Bourgine
Elizabeth is a French actress, appearing mostly in French film and television productions.
Originally a dancer and model, Elizabeth studied at l'école nationale des beaux-arts. She began her acting career appearing in a string of short films, before landing her breakthrough role in Nesta Burma, Shock Detective (1982).
Elizabeth first appeared in Death in Paradise in 2011, but she is best known in France for her roles in Private Lessons (1986), A Heart in Winter (1992) and My Best Friend (2006).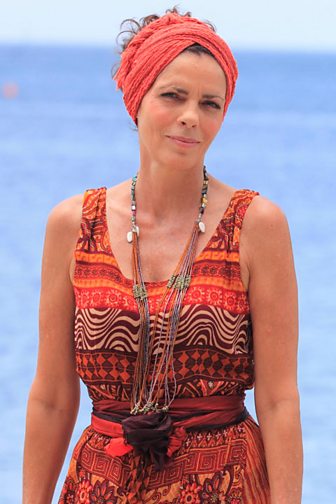 PAST CHARACTER

PAST CHARACTER

Past Character

Past Character

PAST CHARACTER