Main content
Countess Natalya Rostova
| Fact title | Fact data |
| --- | --- |
| Husband: | |
| Daughter: | |
| Son: | |
| Son: | Petya Rostov |
| Niece: | |
Countess Rostova is a devoted mother to her three children Nikolai, Natasha and Petya. She wishes to see them all happy, but the Countess is more hard-headed than her husband, and understands that financial security is important too. Perhaps that's why she is not fond of cousin Sonya – whose love for Nikolai threatens difficult choices ahead for her son.
Interview with Greta Scacchi
Have you always had a connection with War & Peace?
Yes. It's one of those lovely moments where things have come full circle. I remember very vividly when I was 13 watching something that really impressed me – it was the BBC's 1972 version of War & Peace. I'd never heard of the actor playing Pierre, but he was thrilling to watch. At first, I thought he'd forgotten his lines because his speech was broken up. But then I realised that what he was doing was totally fresh. It was Anthony Hopkins, and he was magnificent. That really inspired me and made me want to be an actor. I feel very chuffed to be part of the next round of War & Peace.
Tell us about Countess Rostova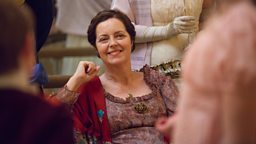 Countess Rostova has had to deal with a lot of emotional hardship which has affected her health and made her quite frail. Her husband has been quite extravagant and overspent and their son has a gambling problem. It's very difficult for her. But for all that, the Count and Countess are still very bonded. They're a couple who really love each other.
What is the Countess like as a mother?
People are full of contradictions, so as a mother the Countess has to find a balance between warmth and love and anger and frustration. It's very difficult and you inevitably make mistakes.
How have you found it working with this cast?
It's been wonderful. I have a really warm relationship with the other actors on this drama. The young actors are so good. It's terrifying how bright and quick and experienced they are. Lily (James), who plays my daughter, Natasha, is fantastic, as are Jack (Lowden) and Aisling (Loftus). They're so well equipped. They're remarkably well-prepared and quick to respond. When they have to be highly emotional they can do it in no time at all.
Has working on War & Peace inspired you to read the novel?
Yes. I'd never had the courage to read it before, but being in it now has been an incentive. It's great being an actor – you get a Literature degree forced upon you by all the books you have to study as part of your profession. It's a total page-turner. It's thrilling because Tolstoy has such a flair for identifying with each character. It doesn't matter the gender or age of a character, he gets right in there and observes the things that move that individual. Then suddenly he'll move to a bit of action or a deep psychological debate or a big intellectual question. It's rich in so many different ways. I had to rip my copy of the book in half because my arm was aching from carrying the whole novel around all the time. So now I only have to carry half the novel around!