Main content
Two Tribes
The last gasp of the cold war
| Fact title | Fact data |
| --- | --- |
| Release date: | 28th May 1984 |
| Written by: | Peter Gill, Holly Johnson, Mark O'Toole |
| First recorded by: | Frankie Goes To Hollywood |
| Also recorded by: | Doctor and the Medics, Rosetta Stone |
Synopsis
Having already courted controversy with their single 'Relax,' Frankie Goes To Hollywood sealed their place in history by writing and redording this eloquent summary of the political landscape at the beginning of the '80s. The Cold War was back in the headlines; American nuclear missiles sat on English soil in Greenham Common and old emnities between East and West had resurfaced.
Are we living in a land where sex and horror are the new gods?

Two Tribes
With membership of CND (the Campaign for Nuclear Disarmament) at its all-time highest, popular opinion amongst the young was very much against old imperialist thinking. Recognising this, Frankie released 'Two Tribes' with its introduction taken directly from the UK Government's 'Protect and Survive' public service broadcast: meant to be shown in the event of imminent nuclear attack. And if that wasn't provocative enough, the song came accompanied by a video (directed by ex-10CC stars, Godley & Creme) which showed lookalikes of US president Ronald Reagan and USSR president Konstantin Chernenko duking it out in a bare-knuckle arena.
Recorded by superstar '80s producer, Trevor Horn, the song was very much of its time, which may explain why so few artists have covered it. However in terms of the song's ability to capture the paranoia and futility of the last days of the Cold War, it remains peerless.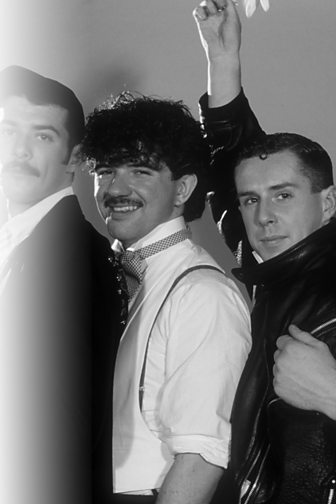 Alternative versions playlist