Main content
Will Farmer
Will is an auctioneer with a passion for 20th Century ceramics and glass.
| Fact title | Fact data |
| --- | --- |
| Joined the Roadshow: | 2004 |
| Memorable find: | A beautiful Fornasetti desk |
Will's love affair with antiques began at the tender age of 4 months old when he went to his first auction. From that point on there was no looking back and, along with his mum and grandmother, Will spent every weekend looking around fairs, auctions and shops. By the age of 12, he had his own stall at a local antique fair. He studied 'Silversmithing, Jewellery and Art & Design' at university. After university, he formed his own company dealing in 20th century furniture.
In 1999, he joined the Birmingham auction house Weller & Dufty as Head of Fine Art & Antiques. In 2001, he and his business partner set up their own auction house: Fieldings Auctioneers. He still collects and among his main passions are Art Deco, Poole Pottery and 20th century glass from the UK and Scandinavia.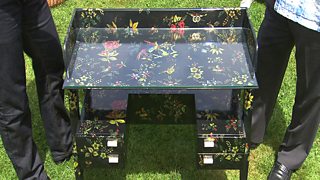 Since joining the Roadshow in 2004, Will has seen an array of amazing objects, including a beautiful Fornasetti desk in Jersey. However, as a lover of 20th Century ceramics, he'd love to see a full set of Clarice Cliff Age of Jazz figures – or even just one! "They are so avant-garde, so amazing, that they would without question challenge all the dissenters who seem quick to knock one of the greatest designers of the 20th Century", he explains.
Outside antiques, Will's main interest is…antiques! More specifically, his passion is 20th Century design and he loves looking for it. The most treasured pieces in his collection are "a group of glass birds designed by Allesandro Pianon for Vistosi in the 1960's. I've always said that if I lost everything, went bust and ended up under a railway arch….I'd be under a railway arch with my four silly, comic glass birds".
Arms & militaria

Arms & militaria

Arms & militaria

Books & manuscripts

Books and Manuscripts

Books & manuscripts

Books & manuscripts

Books & manuscripts

Ceramics & glass

Ceramics & glass

Ceramics & glass

Ceramics & glass

Ceramics & glass

Ceramics & glass

Ceramics & glass

Ceramics & glass

Ceramics & glass

Ceramics & glass

Ceramics & glass

Clocks & watches

Clocks & watches

Clocks & watches

Furniture

Furniture

Jewellery

Jewellery

Jewellery

Jewellery

Jewellery

Jewellery

Pictures & prints

Pictures & prints

Pictures & prints

Pictures & prints

Pictures & prints

Pictures & prints

Pictures & prints

Pictures & prints

Pictures & prints

Silver

Silver

Silver

Silver