Main content
Derek Bateman
Derek Bateman presents BBC Radio Scotland's Saturday morning political review show
Derek Bateman is a veteran of the Scottish news scene having begun as a trainee reporter with the Scotsman in his teens and spending the last 45 years covering politics and current affairs in various guises - as a reporter with the Glasgow Herald, political editor of Scotland on Sunday, a foreign correspondent for STV's international output, a correspondent for the Observer and commentator and presenter at Radio Scotland.
Over the years he has specialised in politics, international affairs and Europe having been a regular observer of EU affairs in Brussels and Strasbourg. He followed the Troubles in Ireland from Dublin and Belfast and as a reporter and radio documentary-maker for BBC Scotland he has worked in Russia, Finland, Slovakia and the Czech Republic, France, the Basque Country, Catalonia, Denmark, Iceland and the Deep South of the United States. He has presented two presidential elections from Washington. He made a location documentary series on the Quebec referendum in 1995 and another on the handover of Hong Kong to China the following year.
Among the highlights of 20 years at the BBC - for him, if not the audience - are co-presenting Good Morning Scotland for 10 years and presenting the Saturday current affairs review Newsweek Scotland. He is a regular presenter of Westminster and Holyrood election night coverage and of by-elections. He occupied the presenter's chair for the opening of the Scottish Parliament in 1999.
Despite occasional forays into television, he is a confirmed radio adherent believing it to be a superior form of broadcasting. His interests - apart from the wines of Burgundy - include rugby union on which he has written for the national press. Derek comes from Selkirk, lives in Glasgow and has two young daughters.
BBC One Scotland: Friday's Herald Clip
A clip from the 1983 programme "The Friday's Herald" featuring Derek Bateman.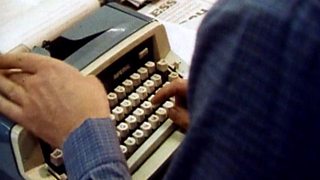 The Glasgow Herald news team discuss the day's top stories.