Main content
Aleks Shirovs
Aleks Shirovs loved the ladies nearly as much as he loved his own reflection, but don't let that fool you – deep down lay an ambitious man with big plans…
| Fact title | Fact data |
| --- | --- |
| First appearance | 24th January 2014 |
| Last appearance: | 16th April 2015 |
| Occupation | Market Inspector |
Aleks initially came to the UK with his friends to make some money before going back to Latvia. But Aleks loves the London lifestyle. He got a proper job in Walford, whipping the market (and poor Tamwar!) into shape and didn't see himself returning home any time soon - especially with so many feisty females in Walford to flirt with!
Living in London turned Aleks' head and he was intent on making the most of it. Aleks wanted the penthouse flat, the sexy girlfriend, the luxury car. And what Aleks wants... Aleks gets… And he didn't care who he had to step on to get it. Winning Roxy over, it seemed Aleks wasn't too far from his ideal lifestyle. Until, that is, Charlie came onto the scene. Realising what had been happening right under his nose, Aleks left The Square.
Played by Kristian Kiehling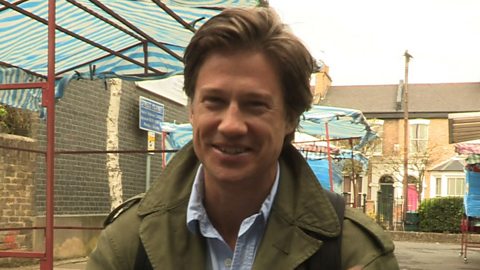 Kristian tells us about his time on The Square and his hopes for Aleks and Roxy...