Main content
When we first meet him, Jonathan Strange, of Ashfair in Shropshire, is a dissolute, idle fellow, a drunkard, a fop and a rake, redeemed only by the love he feels for his childhood sweetheart, Arabella Woodhope, sister of a clergyman in the next parish. When Miss Woodhope tells him that she will only consent to being his bride if he manages to find himself an occupation, he sets off in desperate search of something to do with his life. The answer comes in the form of a strange man under a hedge, who sells Mr Strange some magical spells, and tells him that he is destined to become a great magician. Much to everyone's surprise - not least Jonathan Strange himself - the prophecy turns out to be true.
And so Mr Strange becomes the second magician in the land. More wild, more daring, and more creative than his master, Mr Norrell, Strange becomes a hero of the Napoleonic wars, and a magnet for those who want crazier, more romantic magic than Norrell can provide. As his skills develop, Strange embarks on a path to rediscover the dark, hidden magic of the past. And in so doing, sows the seeds of his own tragedy, and becomes a very dangerous gentleman in his own right.
About Bertie Carvel
Bertie Carvel has emerged as one of the most exciting and versatile actors of his generation, often completely unrecognisable from one role to the next. He is a double Olivier Award recipent, for his roles as Leo in Parade and Miss Trunchbull in Matilda, the Broadway transfer of the latter leading to accolades such as a Drama Desk Award, a Theatre World Award and a Tony nomination.
On television, Bertie is fast becoming a household name, with lead roles as Nick Clegg in Coalition and Finn in Babylon, both for Channel 4, as well as performances in Doctor Who, Sherlock, The Crimson Petal and the White and Hawking. And he shows no signs of slowing down; he's currently filming BBC One drama Doctor Foster alongside Suranne Jones and in July will return to The Almeida stage in Bakkhai, an adaptation of The Bacchae by poet Anne Carson, and directed by James Macdonald.
Bertie has recorded over fifty radio plays, and is one of the principal voices in the Star Wars: The Old Republic computer game. He has worked twice with Academy Award-winning director Tom Hooper, in the Emmy-winning John Adams and Oscar-winning Les Misérables.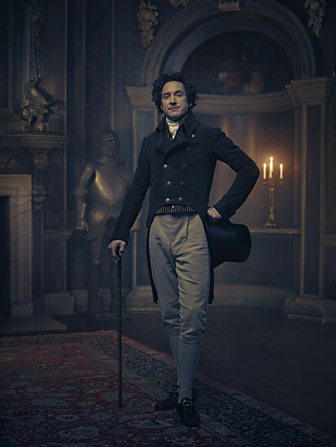 The world of Strange & Norrell
Join the gentlemen magicians to read in the long, dull papers of English magic