Main content
Claude Monet (1840-1926)
Claude Monet was the leading French Impressionist landscape painter.
Monet was born in Paris in 1840 but spent his childhood in Le Havre where his father was a merchant. It was there he met Eugène Boudin, a local artist who encouraged him to paint landscapes.
I perhaps owe having become a painter to flowers

Claude Monet
In 1859, Monet went to Paris to study at the Académie Suisse where he became close friends with a fellow student Camille Pissarro. After serving two years as a conscript in Algeria, Monet returned to Paris and was introduced to some of the major artists of the era including Renoir, Cézanne, Whistler and Manet.
Monet married Camille Doncieux in 1870. The family moved to London to escape the Franco-Prussian war and after their return to France in 1871 they settled at Argenteuil, a boating centre on the Seine  hich drew many other Impressionist painters. Working outdoors from nature was a particular hallmark of the Impressionist movement and one that Monet embraced. His paintings reflect the ever-changing impact of light and weather conditions.
In 1872, he painted 'An Impression, Sunrise'. When this painting was exhibited in 1874, a critic took this title and scathingly labelled the whole movement 'Impressionism' - the name stuck. This exhibition is now known as the First Impressionist Exhibition. 
During the 1880s Monet travelled through France painting a variety of landscapes, eventually settling at his home in Giverny, north-west of Paris. It was here that Monet created some of his best known works including a series of pictures of 'Haystacks' and 'Waterlilies'.
Monet died at Giverny on 5 December 1926.
Clips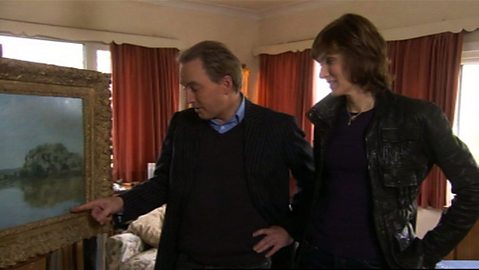 Fiona Bruce and Philip Mould investigate what they believe is an unknown piece by Monet.