Main content
Louise was part of the mid 90's girl band phenomenon Eternal, before embarking on a highly successful solo career. Louise's warm bubbly nature endears her to male and female audiences alike and in 2004 she achieved the accolade of being named FHM's sexiest woman of the decade.
After launching her solo music career, Louise set off on her first UK tour, playing at over 20 sell out venues across the country including Wembley Arena. Pushing the boundaries and collaborating with some of the top US choreographers, Louise's dance routines were respected and well regarded as being ahead of their time.
In 2010, Louise became permanent co-host of the BBC2 cookery show Something for the Weekend.
"As a judge, you have to be honest. The general public isn't stupid and they can tell when someone is not up to standard. What I love about this programme is that it brings dance to the front and makes a star out of the dancer."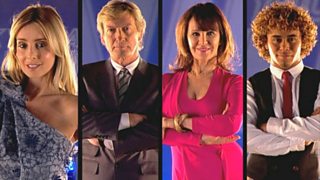 Find out more about Louise, and the other judges.