Main content
Amieth Yogarajah
Amieth is 27 years old and a second year doctor. He studied at Cambridge and previously worked at Watford General Hospital.
Single-minded Amieth faces long, challenging shifts in A&E – the fast-paced hub of the hospital – and finds little time for anything outside of medicine.
What's the best bit about my new job? The pay rise that comes with being a second year doctor!

Amieth Yogarajah
But whilst his head may be awash with complex medical vocabulary, on the wards he's just as likely to be heard reciting lines from his favourite films.
Despite his quest for academic knowledge Amieth retains a wickedly dry sense of humour.
Having grown up in London, Amieth feels at ease in the capital. Aside from occasional solitary trips to the cinema, when he's not at work he's most likely swotting up from a textbook. Although he takes his work seriously, Amieth is one of the most laid-back doctors in the hospital.
Although he's only had one year of working on the wards, he already seems unfazed by whatever trauma is thrown at him. When faced with life and death situations, Amieth is ever the pragmatist.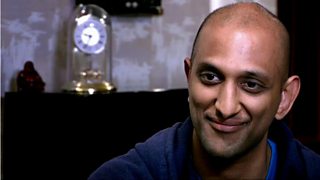 At home Amieth is one of the messiest inhabitants. Nevertheless, his sociable character and willingness to cook make him popular with his fellow housemates.
Amieth's Week One Diary
I slept pretty well on the night before my first day but the main problem was that I didn't have any pillowcases or a duvet cover. My old single cover did not fit my new double bed which I found uncomfortably roomy. It actually took me four days until I got round to sorting out my bedding situation.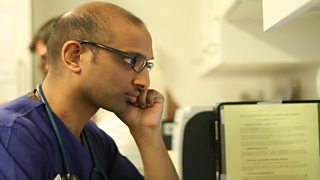 Unlike some of the other junior doctors, on the first morning I didn't get to the hospital super early. I'd actually planned to leave with Ben but when I woke up he'd already left the house! For the entire bus journey I was worried I'd miss my stop (luckily the robot voice on the bus announced a stop called 'Chelsea & Westminster Hospital'). I managed to jump off at the right place but got lost in the hospital, making it through the doors with only 20 seconds to spare. Not a good start!
So far I've really enjoyed working here: within days I was working on nights, and being quieter than the dayshift you get a chance to chat lots with your colleagues and get to know them. I think overall because I've already had a year of hospital experience this first week hasn't come as a massive shock. Over the next few weeks I'm looking forward to seeing more interesting cases and learning more medicine. I think my biggest challenge in A&E will be distinguishing between the 'worried well' and the genuinely unwell people. What's the best bit about my new job? The pay rise that comes with being a second year doctor!
Clips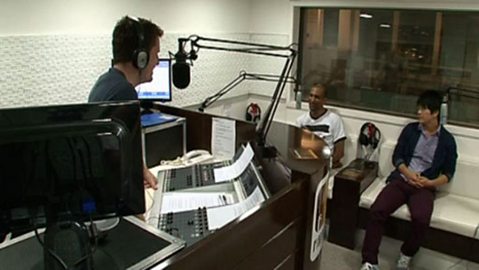 Aki and Amieth talk to Chelsea and Westminster Hospital Radio about being doctors, what they would do if they weren't doctors, and who their ideal patients are.