Main content
Geoffrey Munn
Geoffrey Munn is the Managing Director of a long-established London jewellery firm and has a particular interest in 19th century jewellery and metalwork.
| Fact title | Fact data |
| --- | --- |
| Joined the Roadshow: | 1989 |
| Memorable find: | William Burges brooch |
Geoffrey has organised many specialist exhibitions, including the 2002 Tiaras Exhibition at the Victoria and Albert Museum in London.
He is a Fellow of the Society of Antiquaries and has written five books about jewellers and jewellery. His latest book is a history of Southwold in Suffolk – a place where Geoffrey and his family enjoy spending the summers.
Having joined the team in 1989, Geoffrey is now the longest-running jewellery specialist on the Antiques Roadshow. He is always delighted when a piece of jewellery comes into the Roadshow that was made by a man he describes as 'the greatest jeweller of the 20th century': Peter Carl Fabergé.
Geoffrey's most exciting find to date is a brooch made by the 19th Century architect William Burges. At the Dartmouth Roadshow in 2010, Fiona asked Geoffrey what he would most like to see at a Roadshow - Geoffrey was able to show the designs for Burges jewellery, but nobody knew whether any pieces actually existed. Just a short time later, an eagle-eyed viewer contacted the Roadshow and brought along one of these very rare pieces of jewellery to surprise Geoffrey.
When he is not busy with jewellery, Geoffrey enjoys mudlarking on the banks of the Thames and tending his collection of bonsai trees. In 2009, Geoffrey ran the London Marathon and raised £80,000 for the Samaritans.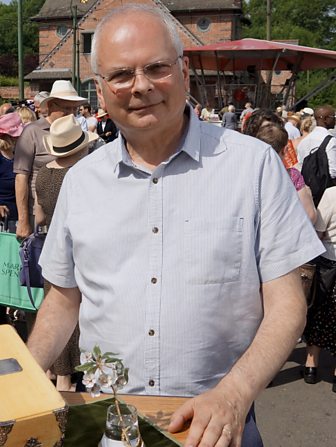 Arms & militaria

Arms & militaria

Arms & militaria

Books & manuscripts

Books and Manuscripts

Books & manuscripts

Books & manuscripts

Books & manuscripts

Ceramics & glass

Ceramics & glass

Ceramics & glass

Ceramics & glass

Ceramics & glass

Ceramics & glass

Ceramics & glass

Ceramics & glass

Ceramics & glass

Ceramics & glass

Ceramics & glass

Clocks & watches

Clocks & watches

Clocks & watches

Furniture

Furniture

Jewellery

Jewellery

Jewellery

Jewellery

Jewellery

Jewellery

Pictures & prints

Pictures & prints

Pictures & prints

Pictures & prints

Pictures & prints

Pictures & prints

Pictures & prints

Pictures & prints

Pictures & prints

Silver

Silver

Silver

Silver