Main content
Andy McConnell
Andy was the first expert on the Antiques Roadshow who specialised in glass.
| Fact title | Fact data |
| --- | --- |
| Joined the Roadshow: | 2005 |
| Memorable find: | Early 18th century English wine glass |
Andy started buying and selling antiques when he was 14 and he is now a specialised glass dealer, running Britain's largest antique and vintage glass shops in his home town of Rye in East Sussex. He has written several books about glass including The Decanter: An Illustrated History of Glass from 1650 and 20th Century Glass, which covers the more recent past. He is currently researching a new book about Swedish glass. Andy lectures widely and writes for journals as diverse as The Times, Country Life, and Glass Circle News. His passion for his subject is reflected in his personal collection of over 30,000 pieces of glass.
Andy joined the Antiques Roadshow in 2005 as the first specialist to deal solely with glass. He regularly keeps visitors entertained with his unique style and passion. Before working in the antiques business full-time, Andy had a successful career as a music journalist.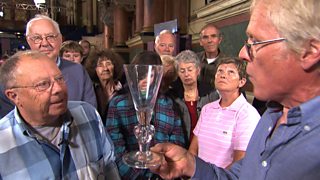 One item that sticks out in Andy's memory came into the Roadshow at Leeds Town Hall in 2009. This large English wine glass made from lead glass was an incredible survivor from 1710. The owners (and the watching crowd) were amazed at Andy's valuation and it was later sold for £7,500.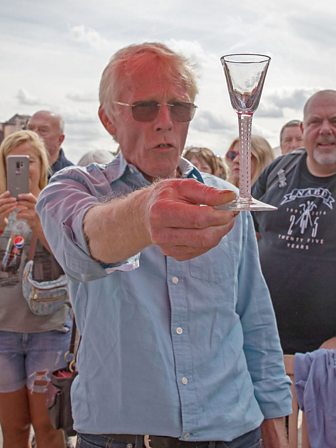 Arms & militaria

Arms & militaria

Arms & militaria

Books & manuscripts

Books and Manuscripts

Books & manuscripts

Books & manuscripts

Books & manuscripts

Ceramics & glass

Ceramics & glass

Ceramics & glass

Ceramics & glass

Ceramics & glass

Ceramics & glass

Ceramics & glass

Ceramics & glass

Ceramics & glass

Ceramics & glass

Ceramics & glass

Clocks & watches

Clocks & watches

Clocks & watches

Furniture

Furniture

Jewellery

Jewellery

Jewellery

Jewellery

Jewellery

Jewellery

Pictures & prints

Pictures & prints

Pictures & prints

Pictures & prints

Pictures & prints

Pictures & prints

Pictures & prints

Pictures & prints

Pictures & prints

Silver

Silver

Silver

Silver