Main content
Sameer Bahal
Sameer is 25 years old and a first year doctor. He studied at Imperial College London.
Working in the Stroke Unit, Sameer has a challenging role working with elderly patients – often with multiple illnesses.
If I couldn't save people from illnesses then I'd like to save them from organised crime

Sameer Bahal
Sameer has medicine in his blood as both of his parents are doctors in his hometown of Kettering, Northamptonshire. Naturally, Sameer feels that he has a lot to live up to. The other thing you need to know about him is that he's a Harry Potter fanatic.
Sameer is more partial to a night on the chess board than the town – he enjoys staying in with his flatmates and catching up on their day. When social events arise around the hospital however, shy-guy Sameer comes out of his shell. Currently single, Sameer possesses a deadpan wit that his patients find charming.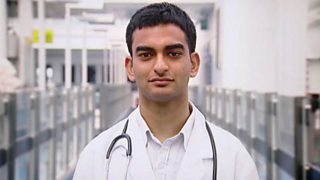 Had he not become a doctor, Sameer would have liked to have become the next Batman – in his own words: "if I couldn't save people from illnesses then I'd like to save them from organised crime".
Sameer's Week One Diary
On the first morning I woke up early as I was worried about cameras following me all day. Fortunately the journey from the house to hospital was simple enough – there are 2 bus routes that go directly there. It felt a bit strange arriving at the hospital. I had been to the hospital many times before as a medical student but this was the first time as an employee…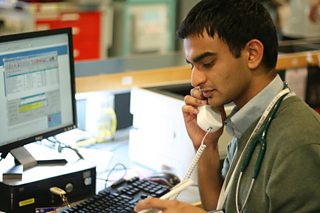 On the first day my registrar (supervisor) took me on the ward round and introduced me to the patients. She explained how everything worked on the ward and I met some of the nurses. In stroke medicine you work with physiotherapists, occupational therapists, speech and language therapists and dieticians. It was a challenge learning everyone's names. My registrar took the time to explain things and helped me to settle in. One of the hardest things I found in the first week was getting your head around your patients and remembering things such as the different allergies they have.
There was one really embarrassing moment on my first day – I had to ask the Radiology department to do a scan for me but I'd only officially been a doctor for an hour so didn't know much about the patient. When I got there they grilled me and asked me loads of questions that were difficult to answer. It was awful.
After a long day at work it's nice to come home and relax. I usually check my emails and have something to eat. Getting paid for the first time will be nice. I think it signifies the change from being a student to having a full-time job. I plan to buy my family something to say thank you for supporting me through medical school.
During the first week I've started to get to know my colleagues, and they are getting to know me. In the weeks ahead I'm most looking forward getting to know the patients and following them through their journey through hospital.
Clips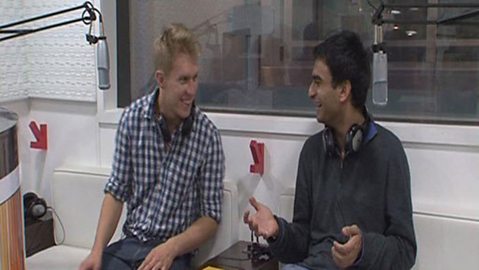 Sameer and Andy talk to Chelsea and Westminster Hospital Radio about being doctors, what they would do if they weren't doctors, and who their ideal patients are.