Main content
Mehdi Hasan
Mehdi Hasan is a British-Indian journalist and commentator on Islamic issues.
The former political editor of the New Statesman, now Political Director of the UK Huffington Post, is a regular commentator on Question Time and The Big Questions, a presenter for Al Jazeera and even managed to fit in writing Ed Miliband's biography.
Never far from controversy, Mehdi's been attacked by the religious right for his secularism and by the Liberal left for his pro-life views and Islamic belief.
Will he have an easier ride on Free Speech?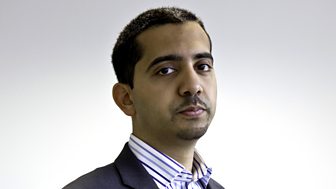 Past panellist

Past panellist

Past panellist

Past panellist

Past panellist

PAST PANELLIST

PAST PANELLIST

PAST PANELLIST

PAST PANELLIST

PAST PANELLIST

PAST PANELLIST

PAST PANELLIST

PAST PANELLIST

PAST PANELLIST

PAST PANELLIST

PAST PANELLIST

PAST PANELLIST

PAST PANELLIST

Past Panellist

Past Panellist

Past Panellist

Past Panellist

PAST PANELLIST

PAST PANELLIST

PAST PANELLIST

PAST PANELLIST

PAST PANELLIST

PAST PANELLIST

PAST PANELLIST

PAST PANELLIST

PAST PANELLIST

PAST PANELLIST

PAST PANELLIST

PAST PANELLIST