Main content
Joe Woolford
PE assistant and high school heart-throb ready to expand his fanbase.
| Fact title | Fact data |
| --- | --- |
| Team | Rita |
| Age | 19 |
| Hometown | Ruthin, North Wales |
| Genre | Pop |
| Musical inspirations | Tupac, Bob Marley, Chris Brown |
Get to know Joe
Joe works as a PE assistant at his old secondary school. He finds it really strange now being able to call his colleagues by their first name. Joe started rapping at the age of 13 and became known to his community as the 'Ruthin Rapper'. He gained a big fan base and often gets stopped in the street for selfies. However, he has now decided to hold off on his rapping to concentrate on his singing career. Joe loves 80s and 90s music and even has a tattoo of Bob Marley's Redemption Song on his arm, which is also his dad's favourite song.
Joe's selfie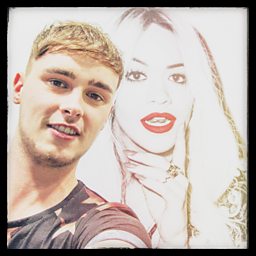 Quick-fire with Joe
What are you most proud of in life? "Being part of this show, getting through to the 'Open Mic UK' grand final and holding my brother for the first time."
Best prank you have pulled on your friends or family? "I ran into my sister's room on April Fools Day and whilst she was asleep, threw a load of water in her face thinking she would see the funny side of it. I thought wrong. She hated me for a week!"
What did you want to be when you were little? "An archaeologist."
Most embarrassing moment: "Probably falling down the stairs on a night out in Chester. All of my mates were laughing at me as I was flying down the stairs!"
Party trick: "Probably doing a little rap."
Apparently, music can help create prize-winning veg, what song would you sing to your prize-winning marrow? "I think if the day ever came where I was singing to veg, I would need to take a long look at myself!"
Don't wake him up! #LivingTheDream
OUT AT LIVES

OUT AT LIVES

OUT AT LIVES

Out at Battles

Out at Battles

Out at Battles

Out at Battles

Out at Knockouts

Out at Knockouts

Out at Knockouts

Out at Knockouts

Out at Knockouts
Winner

Out at lives

Out at Lives

Out at Lives

OUT AT LIVES

OUT AT LIVES

OUT AT LIVES

OUT AT LIVES

OUT AT LIVES

OUT AT LIVES

OUT AT LIVES

OUT AT LIVES

Out at Battles

Out at Battles

Out at Battles

Out at Battles

Out at Battles

Out at Battles

Out at Battles

Out at Battles

Out at Battles

Out at Battles

Out at Battles

Out at Battles

Out at Battles

Out at Battles

Out at Battles

Out at Battles

Out at Knockouts

Out at Knockouts

Out at Knockouts

Out at Knockouts

Out at Knockouts

Out at Knockouts

Out at Knockouts

Out at Knockouts

Out at Knockouts

Out at Knockouts

Out at Knockouts

Out at Knockouts

Out at Knockouts

Out at Knockouts

Out at Knockouts

Out at Knockouts

Out at Knockouts

Out at Knockouts

Out at Knockouts

Out at Knockouts