Main content
Clarrie Grundy
Even when times are hard for Clarrie, she can be relied on to bake a cake, sew a panto costume or help out at the W.I.
| Fact title | Fact data |
| --- | --- |
| Played by: | Heather Bell |
| Born: | 12 May 1954 |
| Status: | |
| Occupation: | Dairy worker / B&B proprietor |
| Lives at: | Grange Farm |
| Works at: | Bridge Farm / Grange Farm |
When Clarrie Larkin met Eddie Grundy she paid off his debts – and bought her own engagement ring. Ever since their wedding in 1981 she's been bailing him out of scrapes as well as bringing up their sons William and Edward, looking after Eddie's father Joe, and working full-time, first in The Bull and then in the Bridge Farm dairy.
Family is the most important thing to Clarrie and she was deeply upset when her Will and Ed were at war over Emma. Seeing Will settled with Nic, and both sons make peace (fragile though it is) at Ed and Emma's wedding was a huge relief.
Clarrie's life will never be dull with Eddie around. His romantic gestures can still surprise her, and she wouldn't be without him, though she's given up hope of getting rich quick (or ever).
Oh Eddie, tell me you haven't!

Clarrie Grundy
Likes: Great Yarmouth, cooking, being a grandma
Dislikes: Ferrets in the house, dishonesty
Highs: Twinning trips to France; Ed and Emma's wedding
Lows: Ed going missing; causing an E coli outbreak at Bridge Farm
Heather Bell
Heather returned to play the part of Clarrie in 2012, taking over from the retiring Rosalind Adams.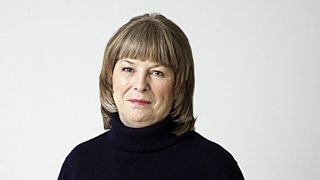 Heather originally joined the cast in 1979, when Clarrie's father Jethro Larkin took a job at Brookfield Farm and moved the family to Ambridge.
Heather has wide experience in radio, television and theatre, having worked in repertory companies all over Britain, in London's West End and in playing many leading roles on television.
Her radio career began at drama school where she was a runner up in the BBC Carleton Hobbs Award for radio drama. She was later was cast as Mercy O'Callaghan, Tracy's au pair, in the long running serial Waggoner's Walk.
The part of Tracy was coincidentally played by... Rosalind Adams!