Main content
Michael Pattie
Meningitis fundraiser Michael shows he's got moves!
| Fact title | Fact data |
| --- | --- |
| Age | 57 |
| From | Dumfries |
| Hero qualities | Meningitis Research Foundation fundraiser |
| Dance Partner | |
In 1999 Michael tragically lost his 13 year old son Dave to meningitis. Since his death, Michael has been tirelessly fundraising for the Meningitis Research Foundation and has raised over £300,000 – some of which contributed towards the development of a ground-breaking new Meningitis B vaccine, available on the NHS.
This is gonna be fun, fun, fun for us all!

Michael Pattie
The majority of this £300,000 has been raised through an idea that came to Michael in front of the TV ten years ago: putting on local Strictly Come Dancing events. These fundraisers, called 'Strictly for Charity' have now been running for a decade and, as well as generating funds, have provided a vehicle for the Dumfries community to come together.
Michael also leads outreach and awareness events; speaking at local schools and parent toddler groups to teach people the meningitis symptoms to look out for. Michael's contribution to the Meningitis Research Foundation has been praised by Scotland's manager for MRF, Mary Millar, who says: "Michael's work has saved lives and he is the best fundraiser we have ever had in Scotland. We are incredibly grateful to him." In 2013, Michael was named Scottish Charity Champion.
Regarding his motivation to dedicate his life to fundraising and spreading awareness of meningitis, Michael says: "Life is not about waiting for the storm to pass; life is about learning to dance in the rain."
And now, it's the Strictly floor that Michael will be learning to dance on- and as one of Strictly's biggest fans, it's safe to say he's more than a little excited!
Michael and Aliona's Samba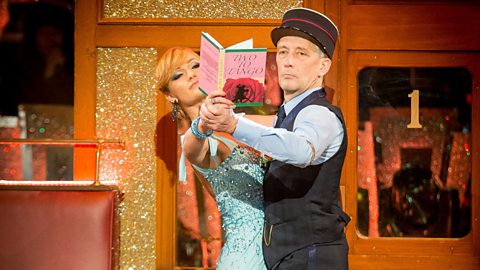 Michael Pattie and Aliona Vilani dance the Samba to 'Perhaps, Perhaps, Perhaps'