Main content
Food & Farming Awards - The Judges' Blog
The Food & Farming judges keep you up to date with the awards journey.
Cyrus Todiwala, chef, broadcaster and judge of The Food & Farming Awards 2015
My Dear food loving friends from across The British Isles.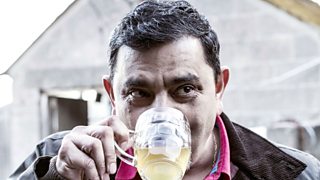 Last year was a joyous one for me when I was presented with The BBC Food Personality of The Year. It has been my pleasure in the past to have been a judge on the panel for these fabulous awards and now I have been given the honour to Chair the Judging. This is like a dream for me; to do the judging of things I truly and really love!
To me these Islands of ours can boast of some of the very finest of produce and farming. I have been lucky enough to see some it at first hand; like extra hot smoked salmon from the Outer Hebrides, some really superb outdoor reared all grass fed beef from Northern Ireland and the fabulous organic turkeys from Wales. I remember my very first visit to the Channel Islands and being amazed at the quality and variety of produce; from Guernsey's Blue Cheese to ormers from Jersey. I have had the pleasure of meeting the wonderful fishermen of Hastings and the unique crofters of North Ronaldsay, I have nothing but admiration for the hard-working, honest and committed people that make the best of British produce what it is.
That passion and pride for our food is all around us. Just look at last year's winner of the cook of the year, Tony Mulgrew, who inspires young people through food in Halifax, or the winner of the market award, bringing top quality and variety of produce to the people of Aberystwyth. From street food to best retailer; our aim is to celebrate the best of Britain and British food and to tell the world, no - in fact to shout to the world about how great we really are!
For these celebrations to continue I need every one looking at the web site reading this to nominate someone that they know who is doing something particularly great in food.
The sheer diversity of this small nation is mind-boggling and must be celebrated. So get thinking and be ready to fill in those nomination forms when we launch in January.
You can find all the blogs from 2014's Food & Farming award judges below.
Pete Brown - Best Drinks Producer Judge
In January, I appealed for drinks producers of all kinds to put themselves forward for the BBC Radio 4 Food and Farming Awards.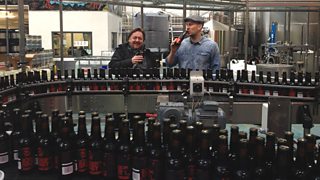 At one point Victoria, who doesn't really drink beer, whispered "I think I've been converted to beer."

Pete feeling proud of his fellow judge Victoria
Clearly our appeal struck a chord. Every single brewery that I am excited about in Britain today either put themselves forward or was nominated by a fan.
We took our longlist to the judges meeting...
After tasting our top three, people asked to taste some of the other beers too, just to make sure we'd chosen well. Things got quite raucous. A couple of our decisions were overturned, and finally it went to a vote, the result being that among three finalists, we have two breweries and a winemaker:
UK'S BEST DRINKS PRODUCER, FINALISTS
• BrewDog
• Gusborne Estate
• Thornbridge
Don't get me wrong, I'm delighted that two of our three finalists are brewers. It reflects the momentum and creativity in brewing today. And I love both brewers, having known each pretty much since they started. But that's the problem. I might have to choose between them.
 Of course the wine maker might impress us more – I'm keen to find out more about the revolution that's happening in British sparkling wine.
But within that three-way, there's an epic struggle brewing for the craft beer crown. BrewDog's Martin Dickie began his brewing career at Thornbridge. Along with Stefano Cossi he created Jaipur, the beer that has won more prizes in British brewing competitions than any other in the last ten years. He began his experiments with wood ageing beer with Thornbridge's St Petersburg. And two years later he quit to go home and found BrewDog with his childhood friend James Watt.
Now both breweries are guiding lights of the UK craft beer movement. We visited BrewDog going around the new brewery, tasting the latest beer, Bourbon Baby, straight from the bottling line, finishing with another beer, as yet unnamed, drawn from a red wine barrel where it has another three months to go before bottling. At one point Victoria, who doesn't really drink beer, whispered "I think I've been converted to beer."
Then Thornbridge. Every time I go there, there are new surprises, and they had plenty more this time. While BrewDog push the boundaries of what beer can be, Thornbridge are exploring the vast library of beer styles that already exist around the world, mastering them in turn. Having made their name with cask ale and then American style craft beers, they're now exploring classic German styles such as Kolsch and Weizen.
And then, Gusborne, who have been making sparkling wine since 2006 and are regularly cited as one of the most exciting wine makers in the country. English wine was a joke until a few years ago. Then the idea started emerging that English sparkling wine could be comparable to champagne in its quality. What we learned at Gusborne was that English sparkling wine is a style in its own right – yes, it's as good as champagne, but it's different from champagne and is now demanding to be appreciated on its own terms.
It's a three-way fight between three finalists who are each changing the face of the drink they make, and each would be a deserving winner of the ultimate accolade. Who should be celebrated as not just the best brewer or winemaker, but the best producer of any drink in Britain?
Kath Dalmeny - Best British Food Initiative Judge
I recently visited Feedback, the charity that acts as the umbrella body for three big campaigns – Feeding the 5,000, the Gleaning Network and The Pig Idea. What an inspiring team!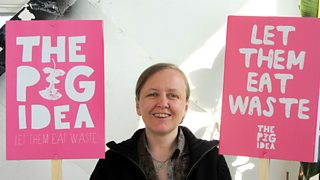 Amazing what they're achieving on so few resources!

Kath is surprised the team isn't in a fancy swish high-rise office
For everything they've already achieved and their high profile, you might expect to find a large number of staff members and a swish high-tech office. There's a team of just five or six people, working fit to bust in an open-plan converted warehouse space shared with other progressive organisations in Dalston in East London. Amazing what they're achieving on so few resources!
Feeding the 5,000 works with partner organisations to run public feasts in cities around the world, to kick-start public, government and business concern about the shocking fact that about a third of the world's food gets wasted. Effectively that means that all the energy, effort, water, animal feed, soil, processing and transportation that went in to producing that food gets wasted too, with huge environmental and ethical implications. In the UK, Feeding the 5,000 feasts have taken place in London in Trafalgar Square and in Edinburgh – they've also organised events in New York, Nairobi and a number of European cities. We interviewed passionate campaign leader Tristram Stuart about his bold ambitions to transform consumer behaviour, business practice and government policy on food waste around the world.
Another of their campaigns is The Pig Idea – for this, we interviewed campaigner Charlotte Jarman about the environmental impact of the current UK and European practice of feeding soya and grain to pigs and chickens – rather than the traditional practice of using food waste.
Charlotte talked about schemes in countries like Japan, using modern technology and hygiene practices to treat food waste to make it safe for pigs to eat. The campaign has just trialled this on a small scale in London, using "legally permissible food waste" such as whey and spent brewer's yeast to feed pigs on a city farm, served up by chefs in one of the Trafalgar Square feasts.
For the third campaign, we heard from Gleaning Network coordinator Martin Bowman . He organises volunteers to go and pick up tonnes of perfectly delicious surplus food on farms that would otherwise get composted or ploughed back in. Martin shared shocking insights into why this happens – sometimes due to big variations in the weather; sometimes due to changes or lack of certainty in supermarket contracts; sometimes due to unnecessary cosmetic standards of supermarkets.
What a thought-provoking Food and Farming Award visit I'm now looking forward to meeting our other two finalists in this category.... Community Shop and Sainsburys.
Fiona Beckett - Best Food Retailer Judge
If it's Wednesday it must be Liverpool or is it Leeds? Last week's whirlwind dash across the north visiting our other two contenders was a blur of long train journeys (one starting at 6.30am - thanks, Beeb!), car rides and farm tours that thankfully weren't nearly as muddy as they would have been a month ago.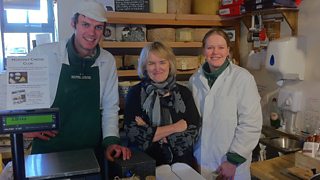 Who knew a cheese could be fluffy?!

Fiona didn't...
Sailing up the A65 in the bright sunshine towards the Courtyard it was hard to feel like we weren't on holiday as apparently most people are when they pass this attractive grey stone complex en route to the Lake District. (Which I embarrassingly hadn't realised was only a few miles away. Georgraphy was never my strong suit.)
It's home to a wine shop, an art gallery and a furniture shop as well as the Courtyard Dairy, a small but perfectly formed cheese shop where the young proprietors Andy and Cathy Swinscoe sell just 25, perfectly kept cheeses.
To call Andy a cheesemonger doesn't really do justice what he does. He and Cathy visit as many of their producers as possible, handpick the cheeses and lovingly tend them until they're in perfect condition (what the French call an 'affineur') He pulled three different batches of Hafod cheddar off the shelf, made within a week of each other, yet each with a subtly different flavour demonstrating how fascinatingly varied real farmhouse cheeses can be
And the Lancashire! Well, I've never tasted such a good Lancashire cheese. It was amazing to watch Andy skilfully split open the 20kg wheel to reveal the gloriously creamy crumbly interior. Or 'fluffy' as Andy put it. Who knew a cheese could be fluffy?!
Perversely for a shopkeeper he says he loves it when customers come in and ask for a cheese he hasn't got so that he can introduce them one they haven't heard of - a creamy Stichelton perhaps or a buttery Baron Bigod Suffolk Brie. The Swinscoes clearly live and breathe cheese.
The next day we were off to the Wirral to visit Callum and Debbie Edge of Edge & Sons, a family butchers in New Ferry which has been trading since 1844. It's not in a particularly prosperous area but the picture-postcard pretty village of Port Sunlight is not far away and it's right on the edge of the Cheshire countryside. (All the meat comes from within a 25 mile radius).
We had so many entries for butchers but what made Edge stand out was the fact that they concerned themselves with every stage of the process. Persuading local farmers to stock rare breeds, stipulating what kind of food and grazing they should have (they're big fans of grass-fed cattle) and when they should be slaughtered. (They're one of rare butchers to have own abattoir, carefully designed by Callum to cause the animals minimum stress)
For a small butchers they're astonishingly hi-tech - the ageing room has a state of the art air filtration system to ensure there's no cross-contamination between carcasses which are all dry-aged. We saw a superb side of beef which had been killed back in January, the flesh dark, ruby red, a treat for one of the many restaurants the business supplies. Callum stresses they're not all about expensive cuts though. "It's important good meat doesn't become elitist".
Then it was off to one of the farms they work with, Ness Heath which is run by Liverpool University for its trainee vets. Litters of impossibly cute Gloucester Old Spot piglets romped around grunting and squealing. Interestingly they were kept inside in large airy barns. Callum is a great believer that pigs must farrow inside rather than outside to protect the litters and not taken away from their mums too early. They also advise on two urban farms run by local schools.
Soooo who has won? The final decision has yet to be made but frankly any of these three (the third being the fishmongers Veasey & Sons my my fellow judge Charles Campion wrote about) deserves to win.
The whole judging process has been such a heartening experience. You sometimes feel the whole world is dominated by supermarkets these days but our shortlistees prove that small shops can thrive and prosper if run by people with passion, imagination and commitment. They're all winners in my book.
Gabriel Scally - Cook of the Year Judge
Living in an institution gives you a keen appreciation of the importance of food. If the only thing you can eat is what is on the daily menu you can often feel trapped. Or at least I did when I was a resident junior doctor in a small district hospital in Northern Ireland. Being a judge for the 'Cook of the Year' category in the BBC Food and Farming Awards introduced me to a host of different places where the head chef is doing a fantastic job. Chef, social entrepreneur and former winner of the award, Al Crisci and I had a tough job selecting just three finalists out of a wide range of entries.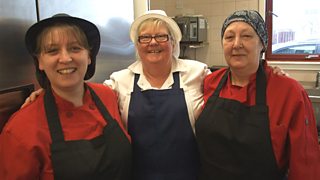 ...but [that] it still has potatoes on the menu every day warms my Irish heart.

Gabriel on Ravenscliffe school cooking potatoes without a deep fat fryer!
On a glorious sunny day we visited the Highland Hospice in Inverness and met Marion Irving and her team. Situated by the River Ness the hospice looks after a small number of inpatients and a large group of outpatients. I particularly loved the way Marion would cook traditional dishes such as Cullen skink and brose, going as far as getting different preparations of oatmeal to suit the tastes of individual patients. Freshness matters to jaded taste buds and Marion uses organic and locally sourced ingredients as a rule.
Our other two chosen finalists were both educational establishments but very different. I know only too well the tribulations of trying to feed teenagers, but undaunted by this challenge, Deborah Kerrmath heads the catering team in one of Manchester University's halls of residence. Providing a seemingly endless variety of new dining experiences for the undergraduates to try, including stir-fry's, crepes and themed days. Deborah makes sure that education doesn't stop at the doors of the dining hall. Deborah connects with the students using an innovative Facebook site to gather suggestions and requests.
Any place that feeds a horde of young people without a deep fat fryer but still has potatoes on the menu every day warms my Irish heart. Ravenscliffe High School and Sports College, has pupils with a wide range of special educational needs and their needs frequently extend to having special food requirements. The head of catering, Tony Mulgrew, copes with a crowded kitchen and dining area with aplomb. Tony's long years of involvement in developing local food culture pays off in great links with suppliers, some of whom provide work experience for the students.
Why don't more schools give students the opportunity of working in their kitchens – what a great education for life!
Tim Hayward - Best Streetfood & Takeaway Judge
I guess most people would say I was lucky that I occasionally get to review restaurants as part of my day job but it's a bit of a double edged sword. There's all the skulking about with false names while booking, there's the desperate hope that you're not going to get recognised when you sit down and throughout your meal you're on duty, making notes, trying to remember every combination of ingredients and hoping something out of the ordinary will happen so the piece you file won't be like everyone else's.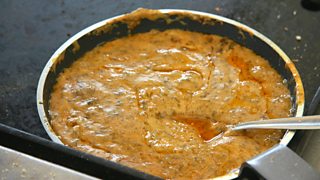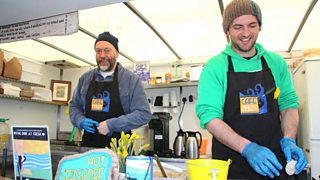 ...weird to imagine that I'm experiencing more real innovation in a wagon in a car park than in a starred restaurant

Tim Hayward on visiting Jonathan of Cafe Mor in Pembrokeshire
...And then there are the judging visits for the BBC Food and Farming Awards. A whole other ball game. To begin with the place you're visiting was recommended by listeners not hyped into existence by clever PR... and if you're lucky it's going to be in some wild and interesting place you'd never otherwise visit. I've never driven ten hours for chowder before but I ended up spending St David's day driving out across South Wales until... well until it ran out.
Here, in a car park in a bay scooped out of the Western edge of Pembrokeshire we met Jonathan Williams, a tall, handsome Welshman in a ludicrous knitted hat, beneath which he seems to have stored a worlds worth of cooking influences.
I can't ever resist the opportunity to get behind a big grill but I can never recall looking out over one at anything as beautiful as Fresh Water West and a day spent prepping and cooking with Jonathan couldn't have felt more different than any normal 'reviewing' trip.
In fact, I think I'm going to demand, in future, that every review I do involves queues of customers, kids on their shoulders and dogs at their heels, telling me exactly why the food is so unspeakably good and the chef's mum, sitting in a deckchair nearby and interrupting the recording with descriptions of her son's brilliance.
The food, spanking fresh, hearty and flavoured with strange local seaweeds was some of the most innovative I've eaten in ages - weird to imagine that I'm experiencing more real innovation in a wagon in a car park than in a starred restaurant - but best of all is being able to talk with the chef himself, to interact with the customers and really get a handle on why people love this place.
Scroll down to the bottom of the page for an interesting laverbread recipe.
Richard Johnson - Best Streetfood & Takeaway Judge
Sheesh. Tim Hayward -- the other judge in the Street Food and Takeaway category at this year's Food And Farming Awards -- has turned up in Bristol with his own chopsticks. In a bespoke carry case. Clearly, I thought, this is a man who understands that if you're not one-up, you're one-down. But I was wrong. Tim was just being sensitive to the needs of the planet. In his former life, as a Guardian food writer, being photographed using wooden chopsticks was a grave error. Readers told him how China produces and discards more than 45 billion pairs of disposable chopsticks every year, and cut down 25 million trees in the process. As I set about my LiangMian, a cold noodle salad, with wooden chopsticks I felt like I may as well have cut those trees down myself.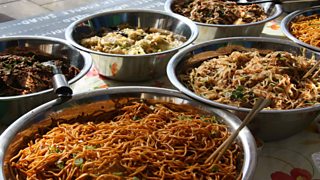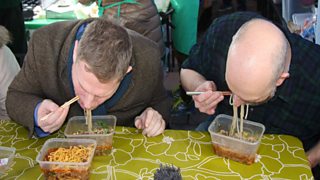 [Tim] has turned up in Bristol with his own chopsticks. In a bespoke carry case.

Richard Johnson on Tim Hayward's 'bring-your-own-cutlery' rule
I'm eating the LiangMian at Chilli Daddy, the only street food traders in Britain specialising in Szechuan cooking. They finished the prep at 2am this morning and, have been setting up on the busy Wine Road Market since 6am. It's now 11am, and the lunch queues are starting to form. With cold noodle dishes on the menu, Chilli Daddy are distinct from the usual Cantonese set-up. But it was their rich, savoury pork stock, fed with thick potato noodles, tofu (from Bristol) and chunks of chicken that I fell for. It was stirred through with fresh ginger and coriander, then topped with a slick of chilli sauce and a sprinkle of Szechuan pepper. Not stupidly hot -- the sort of heat that would have had my Nan going back for seconds. Just really interesting. As Tongue N Cheek and Café Mor are former entrants in the British Street Food Awards, it's clearly going to be close.
Charles Campion - Best Food Retailer Judge
FISH TALES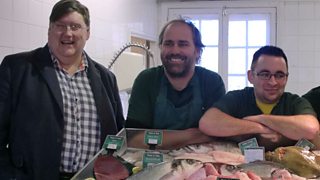 Don't let the Dickensian "and son" bit flummox you, this is a modern, small and spotless shop with a huge display of spanking fresh fish

Charles on Veasey & Sons
It's a sunny day. It may be the only sunny day that we have seen for weeks on end but isn't it amazing how the smallest dollop of sunshine makes you smile? There were four in our party setting out from Victoria Station to Forest Row in West Sussex this is a tidy, well-heeled, village in the Ashdown Forest. Judging the BBC Food and Farming Awards is great fun, but it also dishes out a double spoonful of stress. There were so many passionate nominations, what if the chosen shortlist of three, all end up disappointing when you get to visit them? My co-judge Fiona Beckett and I had managed to blag a fine category – as featured on You and Yours we are looking for the best local food retailer. We're looking for an outstanding shop.
The first of the shortlist to get a visit was "Veasey and Sons" the fishmonger in Forest Green. Don't let the Dickensian "and sons" bit flummox you, this is a modern, small and spotless shop with a huge display of spanking fresh fish. Large plaice with rich ruby spots; a gurning conger eel; huge, broad-shouldered sea bass; lemon soles; herrings; fillets from an enormous cod. And to the left there is a cool cabinet with scallops, mussels, and smoked "roast" salmon from nearby Nutley. This fishmonger shines because of an unusual combination of talents – Chris Veasey is a fisherman with his own boat while his partner, and son in law, Dan Howe was a chef. The lucky people of Forest Row get very fresh fish straight off the boat, fish that's hours rather than days old, then it is filleted elegantly by Dan who will also offer recipes and cooking suggestions. I am very fond of food shopping and the display at Veasey's has an instant appeal that acts like a magnet on the wallet. I have only one major worry, what if each of the shortlist is as magnificent as this? Soon we will be visiting the other two contenders, a cheese shop in Settle and a butcher in the Wirral. I'll let you know how we get on.
Peter Gott - Best Food Market Judge
As a Market Trader for 40 years I was thrilled to be chosen as judge in this year's Best Food Market in the BBC Food and Farming Awards 2014. It depicts me as an "expert", but that title probably comes with my increasingly greying to white hair.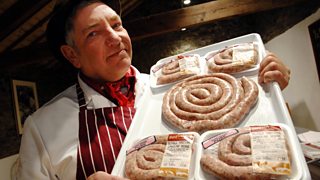 It was insider knowledge that you just don't get from the big stores, and with it the smells: bread, fish, flowers, burgers cooking, roasted coffee...

Peter Gott (Pig farmer and market trader)
My many trips over the years to UK cities and towns always ended up at the local market. I just like the characters, the atmosphere. To listen to the banter, to discover new styles or ideas for selling. (Some good, some not so good.) And the traditional fluorescent card or blackboard with the handwritten big fat sixes or the scroll of a two, which can be an art form in itself. Above all, I like the discovery of what foods are being sold from the locality, what is truly representative of that area. Be it Morecambe Bay shrimps, live cockles in the North West, Cromer crabs from the East, Welsh black cattle, sticky toffee pudding, kippers, rhubarb…it goes on and on.
Wading through 150 nominations one recent Sunday afternoon and reading what people had to say about their prize market, I could feel those characters coming to life in my mind, "that super chap on the fish stall", "the guy with his free range eggs , from his farm ", "that delightfully jolly woman at the flower stall". It was insider knowledge that you just don't get from the big stores, and with it the smells: bread, fish, flowers, burgers cooking, roasted coffee etc. Sadly, in the UK a "Rare Breed" does not only mean a breed of domestic farm animal! Times move on, (and so does the marketplace). But I can't wait to get started and with all those nominations I'll be calling at lots of local markets this year even if they have not been shortlisted in the last three.
Valentine Warner - Food Producer Judge
Wow! This year's Food and Farming Awards have been most encouraging. More nominations than ever before. It certainly made the judging daunting as I installed myself on the sofa at home with a huge supply of tea and toast and a white tower of nominations casting its shadow across the room. Putting things on the NO pile was very hard to do but I quickly realised I had to be far more brutal as my NOT SURE pile grew and grew. Sadly, some producers who I'm sure are very good at what they do suffered from the hurried style or lack of detail entered from the person who wrote the nomination.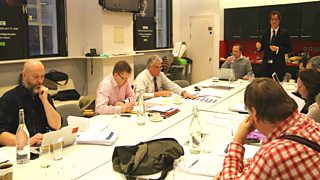 [They] found a sustainable source of horsemeat and was turning it into jerky and had called it My Brittle Pony!

Valentine Warner reflecting on one particular nomination...
Midway through, surrounded by sheets of magnificent marmalade, sourdough sincerity and gourmet goats I burst out laughing. One nomination was from an enterprising producer who'd found a sustainable source of horsemeat and was turning it into jerky and had called it My Brittle Pony. Love it!
By the end of reading, both Sheila Dillon and I felt cruel, heartless, anxious and emotional. Who were we to squash, endeavour and toss it into the recycling bin? After 2 days solid reading we had both racked up healthy phone bills to each other from our extensive guilt and worry correspondence.
What did go into the long list was then researched further. We'd not only been looking for an idea of taste and flavour but also sourcing, work practices, effect on locality and projections.
We had to do a pre-tasting ahead of the group judges meeting as our long list was just too long. But when we met our fellow judges with a shortlist, we found a splendid three.
The finalist meeting when pretty smoothly this year with little table thumping. Although it was at its most heated the minute the Best Drinks category cracked open the first few of their shortlisted bottles!
I'm looking forward to visiting our 3 finalists. We hope you'll approve on our choices.
Sheila Dillon - Food Producer Judge
I'm relieved the guilt, anxiety and o-lord-how-can-I-possibly-reject-this-one? part is over. What I feel now, looking at the piles of rejected nominations (still on the kitchen bench to the daily irritation of my husband--but I've marked so many of them 'Good story for FP'. I need to make a list for the team) is more amazement and pleasure at so many food producers worth nominating. So many, so valued by their customers.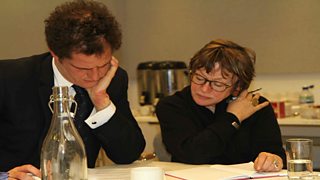 So, that's how the BBC spends licence payers money then........

Sheila Dillon
Interesting scene on the last judging day as we attempted to get each long list down to three. For the producer and drinks categories we had a tasting (taste along with more social and economic issues really matters). The room was packed with cheeses, hams, salamis, butter, biscuits, chocolates, pickles and cream. Plus, there were bottles of English sparkling wine as well as 6 or 7 varieties of beer which Victoria Moore and Pete Brown were arguing their case for top drink. Suddenly, a troupe of visitors to Broadcasting House slowly walked past the glass wall of our room. The thought bubbles above their heads were almost visible: So, that's how the BBC spends licence payers money then........for the record, we hadn't!
Now the visits are being arranged... when can the final three see us? When is Valentine Warner (my fellow judge in this category) free? And so on.... fortunately all being stitched together by the super-efficient Vanessa Scott on the awards team....
In the early days there was no 'awards team'--just the Food Programme producers. One year I was the only judge who travelled to every short-listed nominee in every category.... from Orkney to the Scillies and a lot of stops between. It didn't seem quite as mad when I was in the middle of it as it seems now. This year, like the last few, there are two judges for every category and two by two they visit their own short list, bring back their thoughts and then argue their case before the whole judging panel. It gets heated. Right now, looking at the nominations for the short list we've chosen and the research we've done on each one, I can't see any reason to choose one above the others. I hope actually being there changes that.
Extra Bits...
If, like Tim you love the laverbread then discover some interesting recipes, like this one at BBC Food Online