Main content
Darrell Makepeace
Carpenter Darrell was led astray by workmates who were stealing from their employer.
| Fact title | Fact data |
| --- | --- |
| Played by: | Dan Hagley |
| Status: | |
| Occupation: | Carpenter |
| Lives at: | No fixed abode |
He foolishly thought it would be a way to pay for a few treats for his daughters Rosa and Ana. He was jailed for receiving stolen goods.
Once discharged, he found it hard to get work in his trade, so he was pleased to be offered work by Amside Property Services. But he soon became uncomfortable with the way in which Matt Crawford treated some of their tenants.
And it wasn't long before a former prison mate inveigled him into becoming an unwitting sentry for illegal dog fights.
It was the final straw for Elona, who demanded a divorce.
Do you want any carpentry work doing? Or any work at all?

Darrell Makepeace
Likes - Family life
Dislikes - Being used
Highs - The birth of his daughters
Lows - Being sent to prison, his marriage failing
Dan Hagley
Read an interview with Dan Hagley
Dan Hagley was born in Birmingham and currently lives in a cosy corner of Sutton Coldfield. He has been an actor since the early 2000s and his many theatre credits have taken him all over the UK and beyond.


On TV you may have seen him as Ian Prentice on Doctors, as Ben on Holby City, as a nice policeman on Jonathan Creek and as a nasty man on Crimewatch.


In 2012, he did his first advert, playing a farmer in a major campaign for Hovis.
Dan works a great deal in radio drama, including many episodes of Silver Street, The Archers and the plays One Day, Pouring Poison and Beena and Dev, all for BBC Radio. He is particularly proud to have played the leading role of librarian/sci-fi hero Malcolm Holmes in the cult BBC series Project Raphael and its sequel Project Archangel.


Dan is also a professional writer. For four years he was artistic director of Something & Nothing, who produced national tours of his plays Patrick & Bernadine, The Dinner Lady Man, Miriam on 34th Street and The Sensational Miss Cordelia. He spent most of 2011 as a writer on attachment to Birmingham Rep. His play A Tiny Bit Mental was scheduled to launch in the latter half of 2012.


Dan was chuffed to bits to be joining The Archers as Darrell, having made a brief appearance as a marathon official in 2009.
Archers highlights
Getting the job has been the biggest highlight, Being part of such a legendary show is a real honour! The thrill of getting a wodge of BBC scripts through the post never gets old!
Other career highlights
There have been quite a few! The opening nights of my own plays have always been really special, if slightly terrifying. I loved playing Malcolm Holmes in Project Raphael and Project Archangel for the BBC and I really hope they bring him back for another series.
The highlights for me are usually about the people I'm working with. In my ten years in the 'biz I've been blessed to work with some amazing, ridiculously talented people who have taught me so much. And I'm not ashamed to say I steal from all of them!
Dan on Darrell
I think he's essentially a good bloke who is a little bit easily led. He is determined to stay on the straight and narrow and I'm really hoping he'll succeed.
Favourite
Actor - Julie Walters. I met her a few years ago and made a complete fool of myself by waffling on about how she (as a fellow Brummie) inspired me to work hard and be the best actor I can be. I gushed like a mad fan but it's true. I think she's brilliant. She was totally lovely, unlike my other favourite actor who I met through work and turned out to be an absolute horror! They were quickly struck off my list and I now can't bring myself to watch them in anything!
Book - Puddles In The Lane by Alan Parker. It's a wonderfully evocative story of a London family who were evacuated to Devon in the 2nd World War. My copy is literally falling apart from the many times I've reread it.
Famous For Fifteen Minutes by Ultra Violet – I would have loved to have been part of the Warhol crowd!
Film - Anything Directed by John Waters, 9to5, Misery, Silence of the Lambs, Jaws, Star Wars, The Lost Boys, Six Degrees of Separation, Cabaret, Foul Play and (ahem!) Holiday on the Buses. I know that last one isn't exactly classic cinema but it makes me happy!
I'd still like to...
...do a big West End musical; I'd love a regular role on EastEnders or Coronation Street; and I want Julie Walters to be in one of my plays. If anyone out there can assist with any of the above please contact my agent!
Clips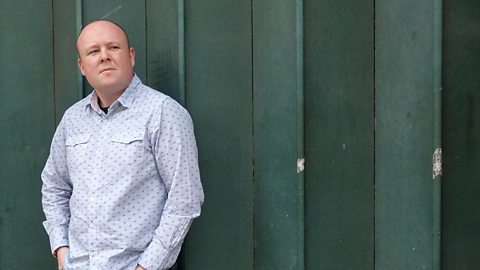 Unwitting Darrell tells Lilian that Paul has died (Jun 2013)