Main content
Dr Ranj Singh
As comfortable talking politics with Andrew Neil and Michael Portillo on This Week as he is singing with puppets on CBBC, Dr Ranj must be the most versatile doctor on TV.
The former male model graduated in Medicine and Pharmacology before finding his vocation as an NHS paediatrician, a role he inhabits today. This inspired his series Get Well Soon, which educates young children about medicine and illnesses, and is as popular with Mums as kids.
Ranj also regularly commentates on medical issues for young adults, and contributed to Failed by the NHS, BBC3's documentary about gaps in mental health provision for young people.
He's seen off politicians and puppets, but is Ranj ready for Free Speech?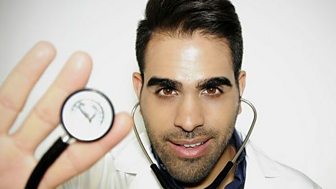 Past panellist

Past panellist

Past panellist

Past panellist

Past panellist

PAST PANELLIST

PAST PANELLIST

PAST PANELLIST

PAST PANELLIST

PAST PANELLIST

PAST PANELLIST

PAST PANELLIST

PAST PANELLIST

PAST PANELLIST

PAST PANELLIST

PAST PANELLIST

PAST PANELLIST

PAST PANELLIST

Past Panellist

Past Panellist

Past Panellist

Past Panellist

PAST PANELLIST

PAST PANELLIST

PAST PANELLIST

PAST PANELLIST

PAST PANELLIST

PAST PANELLIST

PAST PANELLIST

PAST PANELLIST

PAST PANELLIST

PAST PANELLIST

PAST PANELLIST

PAST PANELLIST