Main content
Andy Steval
Andy, a first year doctor, has just left medical school. He qualified at the tender age of 22 and is the youngest doctor in the hospital by 2 months. We see him turn 23 during the series.
His first month is spent in Trauma & Orthopaedics (broken bones) and the following three months in General Surgery.
Ben and I have bonded over our love of toiletries...What can I say – we are both men of taste.

Andy Steval
Northern lad Andy grew up in Otley (Leeds) and studied at Newcastle University. This is his first time living down south in the bright lights of London.
Andy is a first generation doctor – the first medic in his family and the only one out of his group of home friends, some of whom still work in local pubs and supermarkets.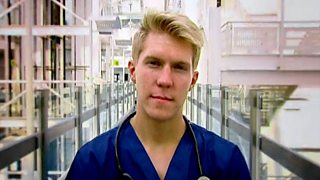 Andy is a keen footballer who used to play for a university team called 'Sex Panthers Athletic'. Despite his laddish facade, he is also in touch with his creative side – as well as playing the acoustic guitar, Andy has recently taken up life-drawing classes. If he wasn't going to be a doctor then he would have been a pilot or an artist. For now though, Andy is determined to pursue a career as a surgeon.
Andy's Week One Diary
I'm not going to lie – of course I was worried the night before my first day. Luckily I didn't have any nightmares that night but there's definitely been a few since!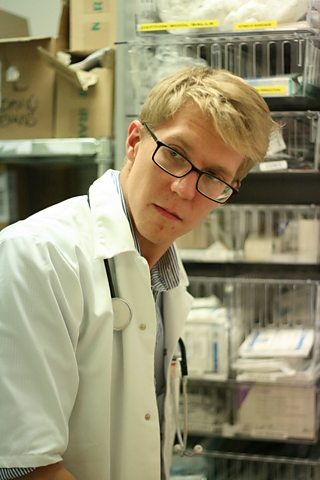 The best part of the first day was getting to meet the ward staff who were all really nice. One of the best things about being a doctor rather than a student is feeling like you're useful for the first time. (The worst part is being knackered from not getting enough sleep.) There have certainly been a few challenges this week. The biggest challenge is trying to keep calm when loads of work is piling up – you've just got to try and keep on top of it.
Two things have gone wrong for me this week. The first embarrassing moment came when I was assisting in surgery – I accidentally let a suction tube (used for sucking blood out of bodies) touch my facemask which means you have to replace it. Another time, I'd left my bleep (hospital pager) in the pocket of my scrubs. Somebody bleeped me and the thing carried on beeping for half an hour. Because I was in theatre and was wearing a sterile gown I couldn't get to the bleep to switch if off. For half an hour all you could hear was a really loud beeping sound coming from my pocket. Fortunately the surgeon was pretty chilled out about it and didn't seem too bothered!
Right now I'm looking forward to our first end of month hospital party. It should be good to get the chance to go on a night out with all of the housemates. Talking about the house, Ben and I have bonded over our love of toiletries – strangely we both use the same hair gel, aftershave, and toothpaste. What can I say – we are both men of taste.
So was my first week how I expected it to be? Well I thought the job would be stressful and it is. But I also thought it would be rewarding and it is. I'm still not used to the long hours though. By the time I get home from work there's time to eat and then it's time for bed. If I can get away early then I try and meet some mates to play football or go for drinks. I'm relieved the first week is over – it feels like I've survived a milestone. There were times where I felt stressed out and out of depth but I didn't panic. My main tip to any junior doctors, or really to anybody starting a new job – make sure you make a big effort to introduce yourself to everyone you meet… and learn their names! I'm terrible with names, but it makes it so much easier once you know the whole team. Over the next few weeks I'm looking forward to feeling more comfortable about making decisions and getting more responsibility.