Main content
Gemma Cairney
Challenge: Tea Time Toning
Update - Gemma gets some upper-body workout tips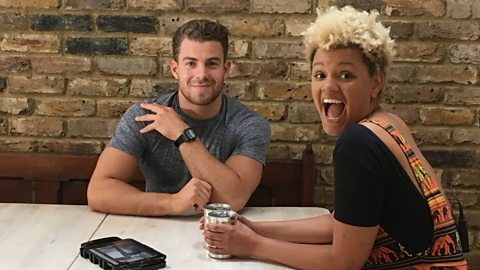 Gemma gets some expert advice ahead of her Make Your Move Tea Time Toning challenge
Where are you from?
Margate
I hope make your move will allow me to...
...watch some good telly and feel like I got some fitness from it too.
Have you done anything to prepare for your challenge?
In terms of preparation, I haven't done anything specifically except maybe eat some beans on jacket
potato so I have a connection to baked beans.
I do like to get out there and move a couple of times a week. I'm not a mad gym bunny but I live by the sea these days so I jump into that sometimes in a wet suit and I'm often running around because I'm always late!
What is your motivational mantra?
Erm... get on with it!
Keep up with Gemma and how she is getting on with her Tea Time Toning challenge at #MakeYourMove on Twitter, Facebook and Instagram.
You don't need expensive gym membership to get stronger. Just open the kitchen cupboards!