Main content
Iain
Growing up just outside of Belfast, Iain's parents are passionate about organic foods and this outlook has directly affected his style of baking. His passion for travelling has taken him to all corners of the globe and he brings these unique flavours to his bakes. Now living in London, Iain is a construction engineer and brings an array of bakes in for his colleagues on the construction sites. With his polite Irish charm, love of international travel, and organic and vegetarian principals, Iain pours both his upbringing and worldliness into his baking.
Iain has both a twin and an older brother and lives with his girlfriend, Catriona; for nine months the pair lived together in a caravan in the Australian outback, where they baked together and argued daily over who was the better baker.
Iain's mum taught him everything he knows about baking cakes and biscuits and he keeps all of his her traditional recipes, sending her pictures of his bakes back home. Iain's dad is also a brilliant baker and bestowed his knowledge of baking bread upon his son, who is so dedicated to baking that he even made his older brother's wedding cake!
Iain especially enjoys using vegetables in his bakes and dreams of opening a cafe in East London.
Iain in his own words
Have you got any memories of baking as a child?
I remember making shortbread biscuits for the school fete; they were shaped like a head and my brothers and I used to decorate them. I also have great memories of making bread on a stick on a camp fire in the Cub Scouts.
What sets you apart from other bakers?
I think always push myself to bake new things I haven't tried about; I am never put off by difficult techniques and I keep using them until I have mastered them. I also love to experiment with unusual flavour combinations and incorporated these into classic bakes.
Why did you apply to be on The Great British Bake Off?
I applied for the Bake Off because I love to bake and it is so different from my day job. I also applied because family and friends encouraged me to.
Have you had any baking disasters?
I have made so many baking disasters. Like a lot of bakers, it's the best way to learn I think, because you discover the correct technique in making mistakes.
What's your favourite thing to bake?
Rich dark chocolate torte as I love dark chocolate.
Who is scarier, Mary or Paul?
Paul because he is such a harsh critic; he doesn't mince his words.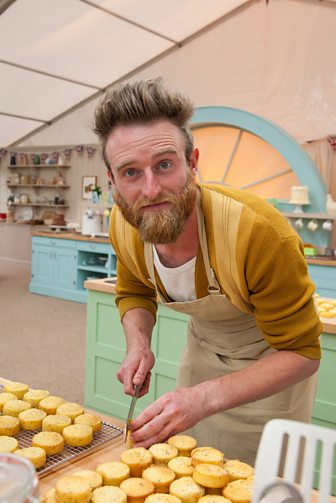 More from The Great British Bake Off