Main content
Ana Gonzalez Bello
Winner of the Georgi Markov Prize 2013
Background
A year and a half into my degree in International Relations, I realised I wanted to be an actor. I auditioned and got a place at the Drama Centre London and graduated in 2012. Living in England was a wonderful experience and I thought of it as home for five years, before I eventually moved back to Mexico City to build my career.
I had been back in Mexico for a year when I wrote Diablo and Romina. Although I enjoyed a happy return home, I was still struggling to find the acting work that I wanted and was still getting used to the way business worked in Mexico. My parents and friends suggested that I should create my own work, but at the time this seemed overwhelming and impossible. However, a friend of mine proposed we write together and we came up with a short play, From 5 to 9. It was performed at a short play festival and although the experience gave me confidence, I was still a little hesitant and felt scared of writing on my own. A month later, a friend in England sent me a link to the BBC's International Radio Playwriting Competition. I loved the idea and decided to stop making excuses, take the plunge and write.
Her Georgi Markov winning play: Diablo and Romina
Roxanne Romina lives with her mother in a small town in the south east of Mexico where nothing ever happens, until her cousin Frank returns from America and changes everything.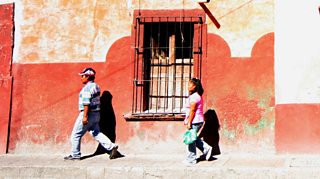 The judges said:
"A charming piece , written with great authenticity and a simplicity that was refreshing. The world was well captured and atmospheric and the threat of violence really well achieved"
Inspiration for the play
A journalist friend of mine had recently come back from an assignment where she had been working on a story on migration, which is a topic that really interests me. I wanted to write about something I cared about, but felt that migration was too big and broad a subject. Who was I to try and say something meaningful on such a huge topic? I then realised I did not have to write a dissertation on the matter – I just had to give voices to the characters and give them feelings, thoughts and wants. I needed to create these characters so that other people could feel and connect with them. I wanted to tell a story from the point of view of those who stay behind; the women in a family where the men move away and have been swallowed and spat out by the American dream.
'The topic started brewing in my mind' Hear Ana talk about her inspiration for the play.
What it means to win
Diablo and Romina is my first attempt at writing a full-length play, so winning the Georgi Markov prize has been a wonderful thing for me. Writing a play that the BBC, a worldwide referent of quality, thinks shows great potential is mind-blowing. It is like being given the thumbs up by a higher power and being told "See how all your doubts were absolutely unfounded? Yes, you may now stop wasting your time and emotional energy in second guessing. Get back to work. There's a long way to go yet". Winning this competition has given me the fuel I needed to want to keep on writing and to get better at it. I am learning to enjoy every stage of this process.
Writing a play that the BBC thinks shows great potential is mind-blowing.
Hear Ana talk about what it means to her to win the Georgi Markov Prize