Main content
Barry Evans
Look up the word 'mug' in your thesaurus, and you'll probably find 'Barry Evans' in amongst the synonyms. His despairing father tried to make a man of him, but Barry was destined to be one of life's failures.
| Fact title | Fact data |
| --- | --- |
| First appearance: | 27th December 1994 |
| Last appearance: | 2nd January 2004 (Deceased) |
| Occupation: | Car dealer |
Loyal but a liability, trusting like a big lumbering bloodhound, the bumbling dodgy car dealer would blindly follow the scent of anyone who showed him kindness... making him easy prey for Walford's more conniving customers.
This is a place of work, not a holiday camp.

Barry Evans
In an attempt to bolster his confidence, Roy gave Barry control of the family car dealership, but Barry nearly lost the business and the family's savings when he was duped by conwoman Vanessa Carlton. Furious, Roy was forced to come out of retirement and never trusted Barry again.
When Barry met pretty Natalie Price, it looked like his fortunes had finally taken an upturn. They married in a double wedding with Ian and Melanie, and their son Jack sealed their happiness.
But Barry being Barry, disaster was always round the corner – Natalie wasn't made for the quiet life, and sought excitement in the arms of best mate Bianca's boyfriend, Ricky.
Janine Butcher, who can smell easy money from fifty paces, immediately pounced on grieving Barry. He fell under her spell and believed that at last he had found true love. However, blushing bride Janine couldn't stand him and had been carrying on with their best man Paul.
One clifftop tussle later and poor old Barry bounced to his death. His wife Janine's cry – "If only he'd worn slip-on shoes!" - his epitaph.
Played by Shaun Williamson
Clips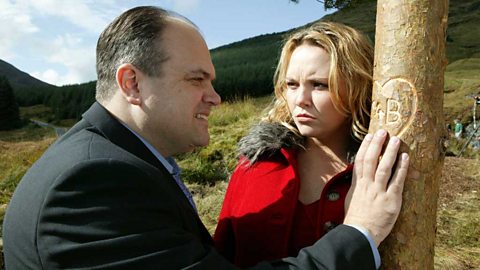 Janine, at the height of her wickedness, causes Barry's untimely demise.