Main content
Dan Hebden Lloyd
Dan showed an early interest in caring for animals like his adoptive father Alistair. As a teenager he became keener to follow his natural father and grandfather into the legal profession. However, Dan turned his back on this (and shocked his mum Shula) to do something he felt would be more worthwhile - a career in the armed forces.
| Fact title | Fact data |
| --- | --- |
| Played by: | Will Howard |
| Born: | 14 Nov 1994 |
| Status: | Single |
| Occupation: | Army trainee |
| Lives at: | The Stables/ Sandhurst |
In 2013 Dan spent some time in the USA, working as a Summer Camp instructor - particular with riding, which he loves.
Soon after, Dan came to a decision about his future and enlisted at Sandhurst for army traning, rising to the rank of Second Lieutenant.
I've made a decision...

Dan Hebden Lloyd
Likes - the Army life, cricket, riding
Dislikes - Fishing
High - Training for a career in the Army
Key relationships
Jamie Perks (Friend) - They don't have much in common, but in a small village...
Will Howard
Dan is Will Howard's second role in The Archers. He had one appearance as Rick, an interior designer in June 2013.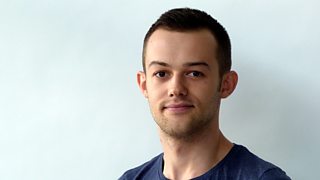 Will spent the first 12 years of his life in Warrington, until moving on to Malaysia, Vietnam and finally Singapore. After studying Drama at Exeter University, he went on to train at the Royal Welsh College of Music and Drama. It was during his time here that he first had the opportunity to get in front of a microphone and explore radio as a medium.
Many more opportunities have arisen since then, as he was a winner of the Carleton Hobbs Award 2012. As a result, he spent eight months on the BBC Radio Drama Company and has performed in over 60 radio plays for the BBC.
As a young boy Will would spend a lot of time 'pretending': dressing up at any given opportunity (in male or female clothing); trying to mimic the voices of teachers, friends and TV characters as well as writing short stories and performing them to whoever would listen (usually his Great Aunt's American cocker spaniel).
Since then, Will has enjoyed a multitude of roles in theatre, television and radio and is excited to carry on learning and growing in what he believes to be the best job in the world.
When not acting, Will enjoys eating full English breakfasts, watching Man Utd and listening to Bob Marley.
Archers highlights
My favourite Archers moment so far is Shula meeting Dan at the airport. For the last six years my parents have lived a 13 hour plane journey away. So I know exactly how it feels to see the woman you owe everything to waiting at arrivals, after not seeing her for such a long time. Always a very special moment.
Other career highlights
Performing at the Edinburgh Fringe is always a wonderful experience. My favourite experience there was playing Jimmy in Simon Stephens' Bluebird, which was such a privilege as I am a big fan of his writing. The experience was made even sweeter by the fact that Simon came to watch. He subsequently bought me a pint and wrote me a reference to drama school on the back of it. A very memorable day.
Another highlight for me was playing the role of Billy in Kes at the Northcott Theatre in Exeter. Performing Billy's final monologue aimed at his father on the last night was a very special moment for me, as my own dad had surprised me by flying over from Korea to watch the final performance.
Will on Dan
the frustrating middle ground between boy and man

Will Howard
I think Dan is at that stage of life that a lot of young men find themselves in – the frustrating middle ground between boy and man. He has had a real taste of independence in America and is starting to form his own opinions about himself and about the world, But he still has moments of feeling lost or unfocussed (as any young man does). As much as he strives to be his own man, he still relies on his parents' support, advice and love – as does anyone.
Favourite
Actor - It changes every 5 minutes!
Book - I have recently read a book called The Etmylogicon, which is about the history and development of words and language. It has completely changed the way I look at language as a tool and as an art form.
Film - Tough. But I think I'll go with Gladiator. Epic and human in equal measure.
I'd still like to...
...go to Jamaica. I want to do a film. I want a dog.