Main content
Rickshaw Challenge 2014
The One Show's Rickshaw Challenge returns to tackle 'Salford to Walford'
CONGRATULATIONS TEAM RICKSHAW for raising over £2.5 million for BBC Children in Need.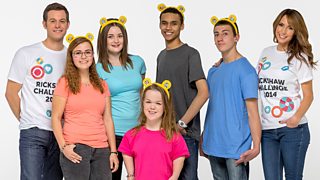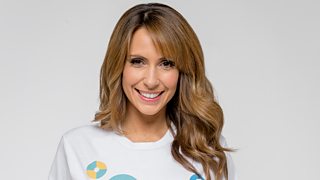 Beginning at the BBC's Media City near Manchester, the rickshaw undertook a 'Salford to Walford' journey across England, finishing live at the iconic EastEnders set during the BBC Children in Need Appeal on Friday 14 November.
Team Rickshaw 2014 were six young people, each supported by projects funded by BBC Children in Need, who powered the rickshaw for more than 450 miles across England. This year the rickshaw was pedalled solely by the young riders, although The One Show presenters Matt Baker and Alex Jones offered their support and advice, both from the studio and live on the road as they cycled alongside the team.
In a first for 2014, in addition to pedalling the rickshaw the young riders were asked to give a speech to an audience, talking about their motivations for the challenge and their own personal journeys. A daunting challenge for anyone, it called upon the team – aged from 16 to 20 – to use all of their confidence and courage, addressing crowds at some surprise high-profile locations.
The journey began on Friday 7 November in Salford, Manchester. From there Team Rickshaw headed north to Blackpool, before making their way back across the country, ending in Walford eight nights later. During this time, Team Rickshaw battled the harsh November weather as they tackled some challenging UK landmarks, including Flash in the Peak District which is the UK's highest village.
Rickshaw Challenge 2014 Route:
Day 1 Manchester to Blackpool
Day 2 Blackpool to Liverpool
Day 3 Liverpool to Buxton
Day 4 Buxton to Nottingham
Day 5 Nottingham to Alton
Day 6 Alton to Coventry
Day 7 Coventry to Misbourne Valley
Day 8 Misbourne Valley to 'Walford', Elstree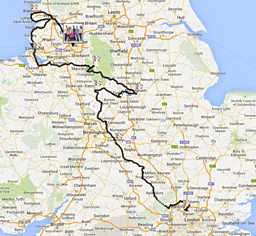 Thanks to all the many supporters of the Rickshaw Challenge
Peugeot
Halfords
Viewranger
Satmap
The National Blood Bike Groups
Dare2
Montane
Polaris
Lucozade
High5
Paul at the Royal Oak pub in Hurdlow
Silverstone
St John Ambulance