Main content
What can you tell us about DCI Roz Huntley and this series of Line Of Duty?
I was really thrilled and in awe of how Jed has managed to create another situation which is tremendously captivating. Line Of Duty reminds you that life is stranger than fiction. Jed manages to bring that level of diabolical truth to his writing with his characters. Jed manages to push it to a place where it remains accessible and it doesn't seem at all exaggerated but he finds the truth in everything. It really isn't easy as a writer as it can quickly become absurd, particularly as you only have an hour for each episode.
What attracted you to the role and how did you come to be involved?
I didn't know anything about the role but I said I wanted to do it. The first thing I saw was series three. I don't watch a lot of television - because I have kids the only thing I watch is SpongeBob or Paw Patrol! My agent said to me: "Thandie, an offer has come in and if you ever want to work in British television, this is it." I've been with my agent since I was 17 so when she said something like that, I sat up.
So I watched it and was completely knocked out by it and Daniel Mays. I'm such a fan of him, as with Keeley Hawes and Lennie James, I've admired them for years. They had clearly been attracted to the material and after meeting Jed, I was in. He's been a pilot, a doctor; he's the most efficient human being I think I've ever met! He's used all his skills and gone to the absolute pinnacle of each and I wanted to try and match that with my acting.
I don't have the opportunity to work in Britain very much because there are a lot of period dramas and they often don't have calls for women of colour so I went to Hollywood.
Jed is known for his meticulous dialogue, how did you find that?
I'm not going to pretend it wasn't terrifying! The positives are that you have this momentum through the scene. It's like theatre, once you know it, you can let the mood and the words just carry you away. It's extremely powerful, I've seen some of those scenes already and I completely see why they want to do it that way. There's a lot of pressure on the actors to learn their lines for sure, but it is stunning. Personally I love a challenge and it did feel like we were doing things differently.
We learn in episode one that Roz is under pressure to prove herself after taking some time out to be a mother. Do you think that's something that will resonate with viewers?
I feel really proud that the show gives women the opportunity to feel represented in that respect. Underpinning everything, there's a need to be recognised as the multitasking ninja that she is and that every woman has to be. There's this patriarchal notion that what men do is worthy of respect and what women do isn't and we see that in equality of pay and what women have to tolerate in the workplace, when it comes to unfair treatment. With a series like this which is so respected and loved, there's no better place than in Line of Duty to put these issues.
What was it like joining the cast?
I was a bit star struck! Vicky is a darling; I mean that in the proper sense. She's an incredible team player, kind and light hearted and we laughed a lot. I'm glad we didn't have too much stuff to do together because I don't know if I could get a day's work with her. We laughed to the point of peeing! Yet the camera rolls and she's right there with it. I was just thrilled to have the opportunity to work with her. Martin has such a broad Glaswegian accent, in contrast to Steve's accent, that when he's speaking with his natural accent it's like he's putting it on. And Adrian's a national treasure!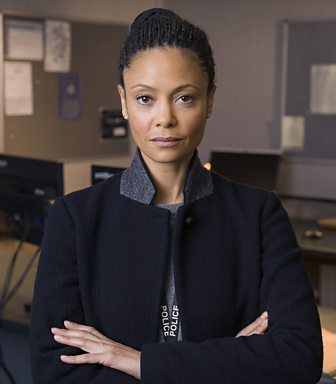 Series 4

Series 2

Series 1

Series 1-3

Series 1

Series 3

Series 4

Series 2

Series 2