Main content
Raheem Kassam
Raheem Kassam is Executive Editor of The Commentator, a political analysis website that's pro-Israel and anti-taxation.
Born to Muslim immigrant parents in Hillingdon, Outer London, Raheem's managed electoral campaigns in both the UK and USA and regularly writes and comments in the media about counter-terrorism, US politics and the Middle East.
At just 26, he is a veteran of almost every right-leaning thinktank going: the Bow Group, the Henry Jackson Society, Young Britons' Foundation… though press reports he was setting up a UK arm of the Tea Party have so far failed to realise. He's also experienced life outside politics, having worked for the consultancy Lehman Brothers.
Will he prove Free Speech's cup of tea?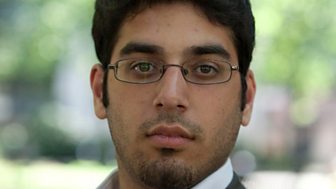 Past panellist

Past panellist

Past panellist

Past panellist

Past panellist

PAST PANELLIST

PAST PANELLIST

PAST PANELLIST

PAST PANELLIST

PAST PANELLIST

PAST PANELLIST

PAST PANELLIST

PAST PANELLIST

PAST PANELLIST

PAST PANELLIST

PAST PANELLIST

PAST PANELLIST

PAST PANELLIST

Past Panellist

Past Panellist

Past Panellist

Past Panellist

PAST PANELLIST

PAST PANELLIST

PAST PANELLIST

PAST PANELLIST

PAST PANELLIST

PAST PANELLIST

PAST PANELLIST

PAST PANELLIST

PAST PANELLIST

PAST PANELLIST

PAST PANELLIST

PAST PANELLIST