Main content
Vanessa Bell
Played by Phoebe Fox (1900s-1920s) and Eve Best (1930s- 1940s).
Described as being the 'mother goddess' of the multifaceted Bloomsbury family, Vanessa is a mass of contradictions and is at the centre of this bohemian group. Due to her attempts to live unconventionally, in regards to her lovers and the bringing up of her children, she is often the focus of uncomfortable discussions.
Vanessa is a devoted older sister to Virginia, though struggles with the weight of responsibility that this relationship brings. She is a dedicated painter and happiest when she is painting alongside Duncan Grant, with whom she has a deeply felt and increasingly complicated friendship.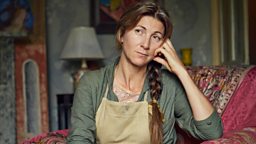 Eve Best as Vanessa
About Phoebe Fox
Phoebe Fox is a British actress living in London. After training at RADA, she has made appearances on stage and screen, with performances in Channel 4's Black Mirror, long-running BBC One drama New Tricks and major cinematic release The Woman in Black: Angels of Death. She has starred on stage in productions of King Lear, Sixty Six Books and was nominated for an Olivier Award for her performance as Catherine in A View from the Bridge.
About Eve Best
Eve Best is an Olivier Award-winning actress of stage and screen. Television appearances include Prime Suspect: The Final Act, Shackleton, New Worlds, The Shadow Line and The Honourable Woman. In America, she has been widely praised for her role as Dr Eleanor O'Hara in Nurse Jackie. In cinemas, Eve starred as Wallis Simpson in the Academy Award-winning The King's Speech.
Eve received a Drama Desk Award and two Best Actress Tony nominations for her roles in Harold Pinter's The Homecoming and Eugene O"Neill's A Moon for the Misbegotten. She has played Beatrice in Shakespeare's Much Ado About Nothing, and Cleopatra in Antony and Cleopatra at Shakespeares Globe, as well as the tragic title role in John Webster's The Duchess of Malfi. Eve made her directorial debut with Macbeth at Shakespeare's Globe Theatre in 2013.