Main content
Alan Franks
Not everyone's idea of the classic rural vicar, ex-accountant Alan is a mover and shaker. Good looking, good humoured and an original thinker, some of his more quirky schemes have occasionally raised the eyebrows of his more traditional parishioners.
| Fact title | Fact data |
| --- | --- |
| Played by: | John Telfer |
| Status: | |
| Occupation: | Vicar |
| Lives at: | The Vicarage |
| Works at: | St Stephen's Church |
Adventures like abseiling down the church tower and taking in a young heroin addict are all part of the job for Alan.
The only blot on the landscape is his rift with Shula Hebden Lloyd over his marriage to Usha. Shula disapproves and this has cast a shadow over this one-time close friendship.
I've had this really great fundraising idea...

Alan Franks
Likes - His motorbike, chocolate brazils, anything that's 'out there'
Dislikes - Injustice, stick-in-the-muds, late nights
Highs - Having Amy approve of his wife Usha Gupta
Lows - The death of his wife Catherine from breast cancer in 1995
Key relationships
Shula Hebden Lloyd (Former friend) - Shula has not got on with Usha for many years since they were rivals in love. Shula was then less than supportive when Alan married Usha.
John Telfer
John was born and brought up in Middlesbrough. He studied piano for 14 years before taking his degree in music theatre at York University. He then trained for two years at The Bristol Old Vic Theatre School. He's returned frequently over the years to teach, direct, and musically direct students.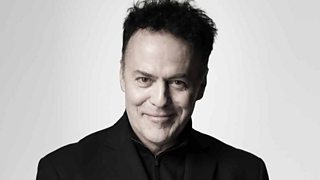 He joined Richard Cottrell's Bristol Old Vic Company straight from theatre school, and spent five happy years in a variety of plays. Favourite shows included a magical Midsummer Night's Dream, which transferred to the London Old Vic.
The 80s were generally a time of touring and television work. He was one of the actor/presenters on ITV children's show Let's Pretend, though it was playing DC Willie Pettit in four series of Bergerac for which he is probably better remembered. TV appearances since then have included roles in Without Motive, Casualty, Licence To Live and Skins.
He has made hundreds of radio broadcasts, contributing to Radio 4's Poetry Please among others, and reading short stories on radio and for audio books.
As a musician and composer, John's musical tastes and abilities are wide-ranging and he now regularly takes time out from acting to concentrate on his musical career. He is lead singer and keyboard player for the Bristol-based rock band AFGM (A Few Good Men), and is one half of a new songwriting/performing duo The Bushido Brothers.
As a theatrical composer he has written for, among others, the nationally acclaimed Shakespeare at the Tobacco Factory company and The Bristol Old Vic.
His work as a director includes plays with music - such as The Follies of Weston-super-Mare - and opera, notably Die Fledermaus for Bristol Opera.
John has also composed music for numerous BBC Radio 4 dramas and for documentaries and children's programmes for both the BBC and ITV. He has also written the score for four musicals.
His daughter Louise from his first marriage is a nurse in the North East. His two sons were both born in Bristol. His wife is a soprano, though her day job is an academic psychologist at Bristol University.
His dad was a self-taught pianist and his mum a great reader who loved her drama on TV. So although it was to their bewilderment that both John and his brother flew the family nest and went into showbiz, it was their parents' love and support which helped them on their way.
Other career highlights
My favourite theatre role was Salieri in Amadeus – probably because he understood so well the experience of bitter artistic disappointments!
Archers highlights
The developing relationship and marriage with the wonderful Usha, played by Souad Faress: overcoming all the family difficulties, and fighting local prejudices.
John's thoughts on Alan
Alan is very down to earth and blokeish.
He will passionately make himself heard where he perceives injustice.

John Telfer
His prior life as an accountant for a small firm, his love of rock music and motorbikes, of the pub and everyday life of the community places him very firmly in the here and now world.
The loss of his first wife and solo parenting since gives him a real understanding and empathy for others' griefs and troubles.
He's unafraid of confronting difficult situations and stands by his principles. He will passionately make himself heard where he perceives injustice.
Favourite
Actor - On TV, John Nettles. One of the kindest, most generous of souls, as well as terrific on camera. Also Ian McDiarmid and Judi Dench (of course). Both wonderfully fluid actors.
Book - Howard's End – only connect!
Film - Jurassic Park. I've been obsessed with dinosaurs ever since I was a kid. And my family and I watch Independence Day at least once a year (traditionally Boxing Day). Any film with Jeff Goldblum in is worth watching.