Main content
Virginia Jekanyika
Winner of the English as a Second Language category 2013
Background
I work as a Creative Director for an advertising agency in Zimbabwe and I am a wife and mother of three boys. Even though my job is very demanding, I often make time to write about things that I feel very passionately about. I have worked on HIV/AIDS campaigns, a radio serial drama, Malaria prevention and anti-domestic violence campaigns. I also take part in church activities that help and empower child-headed families and women in the rural areas.
Her winning play: The Cactus Flowers
Three women start a fishing business in Lake Kariba, Zimbabwe in an attempt to pull themselves out of poverty. Just when business starts to pick up, they are hit by a sudden death and a bitter betrayal initiating a struggle for survival.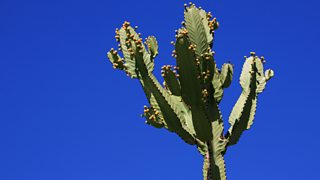 The judges said:
"A play full of the richness of life, with a great set of women at its heart; funny, full of buoyancy and vividness, with a universal theme that combines the rural and the economic to give it a powerful and dramatic core "
Hear Virginia talk about why she wants people to hear her play
The inspiration for the play
Writing the play was therapeutic for me – it helped me express my emotions and deal with the sudden passing of my mother. Remembering my mother Joyce motivated me to write, but I also borrowed elements from my own life, the things that I have seen and experienced and the special relationship I share with each of my eight sisters and my friends. I know a lot people who are living with HIV/AIDS today. These are people that I love and seeing their struggles, frustrations and courage is what inspired me to write this play.
What it means to win
My journey with the competition started in 2009, when I was first nominated. Since then I have received many opportunities to create behaviour change communication and to write on issues to closest to my heart. I have grown as a writer and winning the competition now is an absolute dream come true for me. This is my green light to continue doing what I love.
Winning the competition now is an absolute dream come true for me
The sky is the limit! Hear Virginia talk about winning the competition