Main content
The Ayoubis
Mahmoud, 53, and his two daughters Mirna, 26, and Lydia, 21, live in Essex.
Mahmoud and his wife moved from Syria to the UK when Mirna was a 1 year old. He is a trained plumber and builder but now works as a taxi driver.
Mirna, the eldest of four siblings, recently married but still returns to the family home every Sunday to cook and hang out. She is a design manager working in construction and loves to crochet in her spare time.
Lydia is studying Animation at Nottingham University. She always proves popular among friends when they want to know how to cook something.
The Ayoubis say that food is life. They can always remember being in the kitchen together growing up learning from their parents how to cook traditional Arabic food. Many of the recipes they cook have been passed down from their grandparents.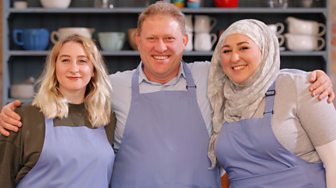 Episode 8

Episode 8

Episode 7

Episode 7

Episode 6

Episode 6

Episode 5

Episode 5

Episode 4

Episode 4

Episode 3

Episode 3

Episode 2

Episode 2

Episode 1

Episode 1