Main content
Buster AKA Brian Doyle
Outgoing and fun, Buster is a guy who likes to make people laugh. But he's no fool when it comes to his career as a professional wrestler.
As a young man, Buster was bullied and his defence mechanism became humour and being the joker of the pack. He was introduced to wrestling as a release but quickly found his talent. For the first time, Buster found respect and his confidence flourished. With his gregarious personality out in the open, he finally found his niche in life and dedicated himself to the sport, quickly turning professional.
Wresting defines Buster. Without it he's nothing – or, at least, that's how he feels.
For Buster, it's wrestling first, everything else second. And this even filters into his love life with his "love me, love my wrestling" attitude towards girlfriends. This self-absorbed mantra proved too much for girlfriend Ellie McLean who walked away after feel unloved and taken for granted.
Buster arrived in Shieldinch to woo Ellie back but is it too much, too little, too late for the couple or will his fight for the girl he loves prove triumphant? Only time will tell...
Buster arrived in Shieldinch to woo Ellie back but she made him work for her affections. He had to fight hard to win Ellie's heart but can Buster put her ahead of his wrestling or will she lose out again?
Grado
Grade plays Buster in River City.
Joined River City – 2014
From – The tap end of Stevenston
Star Sign – Gemini
Loves - Wrestling, eating and clapping dugs
TV Treats – the best programme I watched was a documentary series about Claridge's hotel in London. I also like Gordon Ramsay programmes.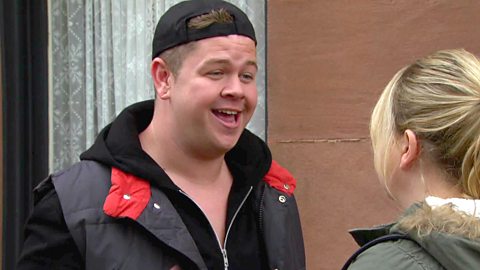 Shieldinch's two latest arrivals know each other and have… an interesting past together.