Main content
David Lammy
David Lammy has been the Labour MP for Tottenham, where he was born and raised, since 2000.
He qualified as a barrister aged 22, became the first black Briton to study a Masters in Law at Harvard aged 25, and at 27 became Parliament's youngest MP before rising to Minister for Innovation, Universities and Skills under Gordon Brown.
In opposition David chose to return to the backbenches, arguing that cuts in his constituency required complete freedom to exercise free speech. He's taken advantage of this ever since, whether speaking out on gang culture or parents' rights to smack their children.
David examined the causes of the 2011 riots, which broke out in his constituency, in a book named Out of the Ashes. Will sparks fly when he appears on Free Speech?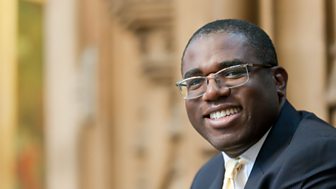 Past panellist

Past panellist

Past panellist

Past panellist

Past panellist

PAST PANELLIST

PAST PANELLIST

PAST PANELLIST

PAST PANELLIST

PAST PANELLIST

PAST PANELLIST

PAST PANELLIST

PAST PANELLIST

PAST PANELLIST

PAST PANELLIST

PAST PANELLIST

PAST PANELLIST

PAST PANELLIST

Past Panellist

Past Panellist

Past Panellist

Past Panellist

PAST PANELLIST

PAST PANELLIST

PAST PANELLIST

PAST PANELLIST

PAST PANELLIST

PAST PANELLIST

PAST PANELLIST

PAST PANELLIST

PAST PANELLIST

PAST PANELLIST

PAST PANELLIST

PAST PANELLIST