Main content
Sara Cox
Hear Sara present Sounds of the 80s, Saturdays 10pm til midnight
Sara is thrilled to be hosting the Sound of the 80s and can't wait to provide an 80s party for Radio 2's lovely listeners every Friday night from 10pm.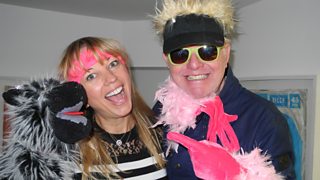 Dig out your lace gloves and ra-ra skirts and join me for the BEST music from the BEST decade.

Sara Cox
She was born in Bolton, the youngest of five children, and strived to get as much attention as possible from her family and pals. This included performing Gloria Gaynor's "I Will Survive" several times a day and working on a dance routine to Grandmaster Flash's "White Lines" for her sister's 10th birthday BBQ.
Despite being into Wham! and practicing her signature of "Mrs Sara Michael", her musical soundtrack in the early 1980s was mainly provided by her older siblings - her brothers' bedroom doors throbbed with the strains of Led Zep, Pink Floyd and Queen, which competed with her sisters' Sheena Easton, Michael Jackson and later, Prince, The Cure, The Smiths and INXS.
Sara loved Salt-N-Pepa, wanted to be Neneh Cherry and flirted with rock (thanks to a fleeting obsession with Jon Bon Jovi) After a detour with Soul II Soul, Sara threw herself into Madchester. Her first 12-inch was The Stone Roses' "Sally Cinnamon" and she finished the 1980s by losing a Kicker shoe at a James gig at Manchester's G-Mex.
A modelling casting led Sara to post-pub Friday night telly where Sara presented The Girlie Show, being shouty and sweary and generally mortifying her poor dad. Sara worked on The Big Breakfast, MTV and various other shows, before becoming the host of the Radio1 Breakfast show for over three years. Sara has hosted various shows on Radio 1 since then and can now be found popping up on telly on various panel shows.
Today Sara writes a weekly column for a Sunday magazine and is working on other writing projects. She also dedicates time to her favourite charities but doesn't like to talk about how selfless and giving she is. Sara has three brilliant, noisy and hilarious children and married her lovely husband Ben in the summer of 2013.