Main content
Bill Harriman
Bill Harriman is one of Britain's leading experts in firearms.
| Fact title | Fact data |
| --- | --- |
| Joined the Roadshow: | 1986 |
| Memorable find: | A gold and ivory four-barrelled pistol |
Having initially trained as a chartered surveyor, Bill quickly realised his real passion lay with 'Arms and Militaria' and he is now Director of Firearms for the British Association for Shooting and Conservation. He is also an accredited forensic practitioner and a member of the Academy of Experts and the Forensic Science Society. In 2002, he was appointed to the Home Office Reference Panel for historical firearms. Bill writes widely for the shooting press and is also an independent adviser to the Association of Chief Police Officers Firearms Technical Group and a Fellow of the Society of Antiquaries of London. In 2011, he was appointed Honorary Historical Consultant to the Royal Armouries Museum.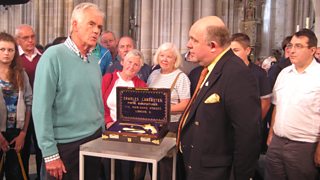 Since joining the Roadshow in 1986, Bill's most exciting discovery was a gold and ivory Charles Lancaster four-barrelled pistol made for General Sir Garnet Wolseley, the foremost soldier of the Victorian age. From his own collection, Bill's most treasured piece is his grandfather's penknife which was shattered by a bullet or a shell fragment during the World War I. Whether it was a near miss or it saved his life by dissipating the missile's force, it was a stark reminder of the fragility of human existence.
Outside the arms and militaria world, Bill can be found indulging his passions for real ale, Handel opera and painting miniature figurines.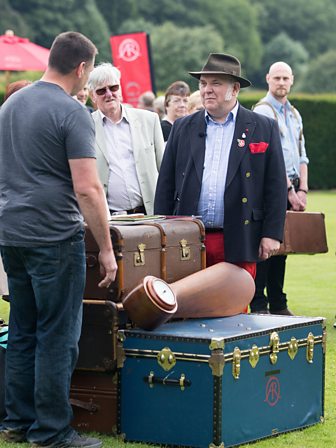 Arms & militaria

Arms & militaria

Arms & militaria

Books & manuscripts

Books and Manuscripts

Books & manuscripts

Books & manuscripts

Books & manuscripts

Ceramics & glass

Ceramics & glass

Ceramics & glass

Ceramics & glass

Ceramics & glass

Ceramics & glass

Ceramics & glass

Ceramics & glass

Ceramics & glass

Ceramics & glass

Ceramics & glass

Clocks & watches

Clocks & watches

Clocks & watches

Furniture

Furniture

Jewellery

Jewellery

Jewellery

Jewellery

Jewellery

Jewellery

Pictures & prints

Pictures & prints

Pictures & prints

Pictures & prints

Pictures & prints

Pictures & prints

Pictures & prints

Pictures & prints

Pictures & prints

Silver

Silver

Silver

Silver