Main content
Mike Fenton
Jamie's best mate Mike, 16, is the epitome of the awkward teen.
Geeky, and socially gauche, Mike finds it hard to act independently of his relatively cooler friend.
I'm a man of mystery, an enigma.

@PramfaceMike
He lives vicariously through the more confident Jamie, so he's gutted by news of Jamie's impending parenthood.
Mike is desperate to lose his virginity. He's not really that picky about how it happens or who the 'lucky lady' is, just as long as it happens soon. But now he's lost his wingman, it's looking more unlikely than ever.
What's the connection?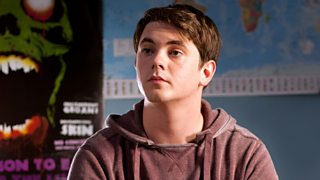 Mike is Jamie's best friend
Mike is Jamie's best friend
Jamie has always been Mike's wing man, so although he wants to be supportive of his mates situation, he can't help but notice that a baby might change things…