Main content
Penny Brittain
Penny Brittain is a fine arts consultant.
| Fact title | Fact data |
| --- | --- |
| Joined the Roadshow: | 1986 |
| Memorable find: | Orphanage album of tiny linen clothing |
Penny's field of expertise lies in 18th and 19th century furniture, objects and textiles, with particular interest in their origin and use in a domestic environment. Penny has contributed to various other BBC antiques programmes, including The Antiques Inspectors, The Antiques Show, Going for a Song and the Radio 4 series Hidden Treasures. She also contributes to BBC Radio Cambridgeshire. Her passion is for 20th century painting and decorative arts, which she also collects.
Currently, Penny works as a fine arts consultant in Norfolk. She advises clients on how to downsize and values collections for sale and distribution within families. She also advises on the restoration and decoration of houses and gardens.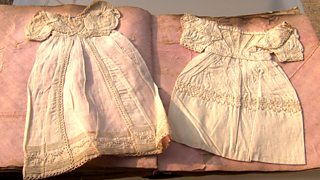 One of Penny's recent memorable finds was an album from an orphanage in Ireland dating from 1832. Inside were beautifully sewn miniature replicas of adult clothing. This book would have been presented to local country houses in the hope that they may employ the young girl who sewed the pieces and therefore save her from the orphanage; an unusual and moving item.