Main content
Verity White - Producer
Hidden Kingdoms – Secret Forests
Verity White is a natural history film-maker, producer and director.
Career highlights
Filming the landmark series 'Africa' for the BBC Natural History Unit.
10 questions about making Secret Forests
1. How would you describe Hidden Kingdoms in three words?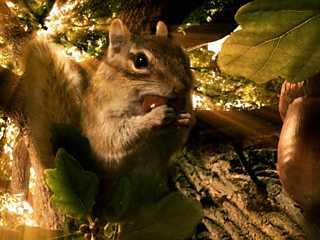 Once we cracked the storytelling we felt we were doing justice to the amazing lives these little creatures have

Verity White
A genre-busting adventure!
2. How did you go about selecting the main characters and locations to feature in your programme?
Forests are the ultimate hidden kingdom, and the tropical jungle even more so. The tree-shrew caught my eye as it is an animal I hadn't heard much about before and the more we researched the more fascinating facts we found out. The chipmunk is possibly the cutest creature on the planet, with a really fun story – so that one was a no brainer.
3. What challenges did creating this new style of wildlife documentary bring?
This was a real step forward in natural history film-making, we needed all our traditional skills and experience working with wild animals. But we also needed to employ a completely novel approach to storytelling. It took us a while to work it out and we drew a lot from human dramas and their script writing techniques. Once we cracked the storytelling we felt we were doing justice to the amazing dramatic lives these little creatures have, then all we had to do was film it!
4. Why did you decide to make a series with a more dramatised and personalised approach?
Creating empathy with a non-speaking animal has been a challenge for wildlife film-makers for years. Fortunately, the characters we're working with on Hidden Kingdoms are so strong. As long as we tell their stories clearly and deliberately the drama speaks for itself. How people react emotionally is up to them.
5. Did you derive inspiration from any unusual sources when writing your stories?
I've spent a lot of time in various jungles, absorbed a lot of atmosphere and felt a lot of fear. Probably not as much as a tree-shrew as I'm not quite such an edible size, but I drew a lot on these personal experiences. It's still so hard to represent the jungles on film…
6. Which Hidden Kingdoms' character would you be most like and why?
I'd be the tree-shrew, super fit, super intelligent, rather prone to making mistakes…
7. Which super power would you like to have if you could choose one?
I'd like the Kung-Fu fighting skills of a rhinoceros beetle.
8. Which 'B' character do you like most in the series?
The moose: completely unaware of the dramas going on under its feet.
9. What is the most important thing you've learnt through making Hidden Kingdoms?
No matter how unlikely it looks, if you push hard enough you can get that lens down that hole…
10. If you could make a second series, what little animal would you most like to feature?
An Australian sugar glider, look it up and you'll see why!