Main content
Stevie McCrorie
A big 'ole round of applause for our Voice UK 2015 Winner!
| Fact title | Fact data |
| --- | --- |
| Team | Ricky |
| Age | 30 |
| Hometown | Alva, Clackmannanshire (Scotland) |
| Genre | Acoustic/Pop/Rock |
| Musical inspirations | Sam Cooke, Paolo Nutini, Life |
Get to know Stevie
Stevie's firefighter mates actually applied for him to audition without telling him (and now that he's our 2015 Voice UK Winner we'd like to extend a very big thanks from all of us at The Voice!). As a part-time singer he's played some pretty epic gigs, including T in the Park, The Wickerman Festival, the BBC Introducing stage, and he's supported The Bare Naked Ladies at the O2 Academy in Glasgow, to over 2000 people! He even has his own song lyric tattooed on his arm which reads: "I hope I'm not too old before I figure it out." Nice touch, Stevie!
Stevie's selfie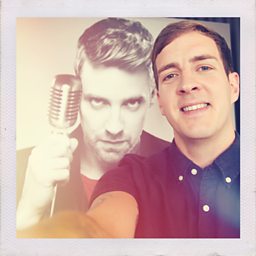 Quick-fire with Stevie
Apparently music can help create prize-winning veg, what song would you sing to your prize-winning marrow? "What's a marrow? *after googling it*… Ok! Sam Cooke's 'Summertime'!
Celebrity resemblance? "A younger Hugh Laurie"
Describe your personality in three words: "Passionate. Dedicated. Unusual."
Proudest moment? "Being a dad, and getting to play T in the Park!"
You're headlining Wembley! What would you have on your rider? "A golf practice screen, steam room, water, fruit, pizza and a masseuse!"
If you could invent any musical gadget, what would it be and why? "An automatic vocal warm-up, as warming up is so boring!"
Stevie's throwback thursday
Looking super Chic Stevie!
It's my birthday, it's my birthday, I'm gonna eat this cookie
Well this is ONE way to thank your Coach...
Winner

Out at Lives

OUT AT LIVES

Out at Battles

Out at Battles

Out at Battles

Out at Knockouts

Out at Knockouts

Out at Knockouts

Out at Knockouts

Out at Knockouts
Winner

Out at lives

Out at Lives

Out at Lives

OUT AT LIVES

OUT AT LIVES

OUT AT LIVES

OUT AT LIVES

OUT AT LIVES

OUT AT LIVES

OUT AT LIVES

OUT AT LIVES

Out at Battles

Out at Battles

Out at Battles

Out at Battles

Out at Battles

Out at Battles

Out at Battles

Out at Battles

Out at Battles

Out at Battles

Out at Battles

Out at Battles

Out at Battles

Out at Battles

Out at Battles

Out at Battles

Out at Knockouts

Out at Knockouts

Out at Knockouts

Out at Knockouts

Out at Knockouts

Out at Knockouts

Out at Knockouts

Out at Knockouts

Out at Knockouts

Out at Knockouts

Out at Knockouts

Out at Knockouts

Out at Knockouts

Out at Knockouts

Out at Knockouts

Out at Knockouts

Out at Knockouts

Out at Knockouts

Out at Knockouts

Out at Knockouts