Main content
Count Arthur Strong (Steve Delaney)
Seventy something Count Arthur Strong, a faded variety star, still believes he's in show-business.
Ever optimistic, Arthur goes through life ready to try anything to make a few £££'s – and ready to give a performance whenever he feels he has an audience.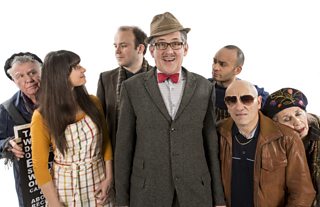 Unfortunately he's not very good at either and his efforts usually end in chaos.
How it all Began (written by Steve Delaney)
Arthur is based on many influences and people from my youth from the 60's and on. Next door neighbours, relatives, eccentric shopkeepers. There seemed to be a wealth of them around when I was growing up and, I didn't know it at the time but, I was storing all of them up for later use.
I first performed a version of what was to become Count Arthur as an end of term act whilst at the Central School of Speech and Drama in the early 80's. We'd spent a term working on aspects of 'circuses' and there were to be end of terms showings. I decided, rather than do the traditional thing and pretend to walk the tightrope or be a clown that I'd do a circus strong man, who sang and played the piano. The act ended with me having a tussle with Dracula and seeing who had the strongest teeth in Christendom. It was obviously Arthur.
I then put Arthur aside for a few years whilst I was seeking acting work and working as a carpenter but within that period I was constantly wondering how Arthur would react to things that I would see happen. He was always my second take on situations.
Because I could generate an income as a carpenter, it meant that I could subsidise myself whilst I was developing Arthur and I could do so at my own pace which was very important to me. I eventually began to perform in some carefully chosen comedy clubs at the beginning of 1997. I developed material over the next few months, putting a show together to take to the Edinburgh Festival, the first of, I think, nine visits to Edinburgh. Although audiences were thin at that first Edinburgh, my show generated a fair bit of interest and I ended up a few months later making a series of short films for the Paramount Comedy Channel. Other small TV appearances followed.
Each consequent visit to Edinburgh brought more support from audiences, and the shows up there turned Arthur into something of a cult figure. Richard Daws and Komedia Entertainment came on board in 2002 for my most successful Edinburgh to that point, 'Count Arthur Strong's Forgotten Egypt'. I have continued to tour a live show annually.
In 2005, BBC Radio 4 commissioned a series, 'Count Arthur Strong's Radio Show' and, to date, we've had seven consecutive series and a couple of specials, winning the 2009 Sony Radio Academy Award for best comedy.
I recorded my first TV series, the snappily titled, 'Count Arthur Strong', co-written with our director, Graham Linehan this 2013.